International Conference on Smart Packaging and Printed Electronics – A Detailed Report 
Offset Printers Association (OPA) organised an International Conference of Smart Packaging and Printed Electronics with the support of Government of India, Ministry of MSME at DCRUST, Murthal from 3rd to 6th September 2022.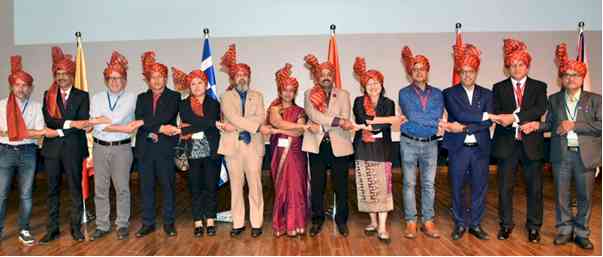 Resource persons from 7 countries – Bangladesh, Bhutan, Greece, India, Indonesia, Nepal and Sri Lanka were present during International Conference on Printed Electronics and Smart Packaging.
Offset Printers Association (OPA) organised an International Conference of Smart Packaging and Printed Electronics with the support of Government of India, Ministry of MSME at DCRUST, Murthal from 3rd to 6th September 2022. The conference was inaugurated by Bandaru Datatraya, Governor of Haryana. 
Speaking on the occasion, Bandaru Datatraya, Governor of Haryana said, need of the hour is to take steps towards making the country self-reliant by establishing high quality in the field of electronics and technology. He said, the business of smart packaging and printed electronics is continuously growing rapidly in the country and world over. He further said that according to an estimate, India's printed electronics market stood at US$ 0.78 billion in 2021 and is expected to touch US$ 3.11 billion by 2029. The Governor said, "We must work together with complete honesty, social service, and truth to make India a 'Vishwa Guru' again. India has already shown this during the Covid-19 pandemic." 
Prof (Dr) Rajendrakumar Anayath, Vice Chancellor of DCRUST said the work of printing as technique of adding ink to paper or on a substrate is already over, and we must think the innovative ideas and latest technologies in printing now.
Earlier, welcoming the delegates and dignitaries, Parveen Aggarwal, President of OPA said, now things are fast becoming normal after the difficult period, we are looking forward to meeting the experts and hearing their ideas for solving the problems of the Printers. While noticing the decrease in the commercial printing due to internet, the best option left is packaging which is growing and is expected to continue to grow. At the same time taking into consideration the demand and market trends it is necessary to understand what is 'More than Packaging' and what will be the future of printing, especially Packaging. He said they expect each delegate who is here will contribute with inputs, printers can hope to revitalize the thoughts of fellow print entrepreneurs. It is a great platform, it is first time ever that such an interactive conference is being organized at DCRUST, Murthal.
Giving his views on the Present Status of Printing in India and role of AIFMP, P Chander, President of All India Federation of Master Printers (AIFMP) said, it is a matter of greatest satisfaction and proud that OPA is working hard to educate the printers about latest technologies. AIFMP is the apex body of 250,000 printers of India and we are working for the growth and development of printing and packaging sector. 

Giving the concept of the conference, Prof. Kamal Chopra, Chairman of the conference said, the main motto of this international conference is to understand the present situation and to know and deliberate over the alternatives available, at the same time to look for networking among the international experts, Indian researchers, and printers. He said nnetworking is the only solution especially for small and micro enterprises. 
Prof. Chopra then elaborated his printer association - Offset Printers' Association (OPA). Established in 1988, OPA has recognized itself into a dynamic and influential organization that provides a strong voice for the needs of printing community. Considered to be the most active printers' association OPA is also active in the field of Print Education and recognizing the print talent. Ignoring the restrictions of location and boundaries membership of OPA is open to any printer of the country.
Kamal Chopra said that the concept of printing in the enterprise has undergone a major change in basic assumptions in the last few years. One of the major reasons behind this is rapid growth around printing technology. This has created a scenario where printers have evolved much beyond the basic printing function. He advised the printers of the country to carefully invest for the future of printing and try to evolve the concept that now a days, Printing is not only Ink on Paper. 
Emphasizing the importance of the conference he said, the goal of this International Conference is to examine and establish where the world and precisely the Indian printing sector is headed. Where should printer invest his money concerning emerging and disruptive technologies? What is the future of the print especially the packaging sector concerning the products we make and the customers we serve? At the same time there is need to adopt the change, as I quoted at various platforms merely 'Ink on Paper' is not printing now. Adopting minor change, commercial printing is also gaining the grounds that is what we are going to achieve in these two days deliberations. 
Giving details of the International Conference, Prof. Chopra said, they have invited expert speakers from round the globe to discuss and elaborate the status and future of Printed Electronics and Smart Packaging. There are fourteen eminent speakers from 7 countries, two from Greece, five from India, two each from Nepal and Bhutan and one each from Indonesia, Bangladesh and Sri Lanka. Besides these eminent speakers there are 13 Indian resource persons. More than 237 registered delegates from thirty-two different cities of India are here to discuss and rub shoulders with these intellectuals and other academia in Printing for this international conference. He thanked the Government of India, Ministry of MSME for supporting this initiative of OPA and appreciated the efforts and cooperation of Deenbandhu Chhotu Ram University of Science and Technology (DCRUST) in organizing the event at Murthal.
Presenting the vote of thanks at the close of inaugural session, Ashwani Gupta, Co-Chairman of the International Conference appreciated the gesture of the DCRUST and team of teachers working round the clock for the success of the event. Thanks, His Excellency for the time, he said it is our fortune that such a wonderful personality has come specially to bless the printers. Mr. Gupta said such a technical seminar he has never noticed in his life till date and thanked team OPA for the outstanding efforts. 
During the technical presentation, the expert speakers spoke on different topics of Printed Electronics and Smart packaging, covering business ideas, research, demand and future scope, challenges, and solutions. In his keynote address Col Comdt. Prof. Dr. Rajendrakumar Anayath, worthy Vice Chancellor of DCRUST said, printed electronics refer to a process in which printing technology is used to produce various kinds of electronic goods, such as electronic circuits, displays, sensors, RFID. It is based on organic conducting and semiconducting as well as printable inorganic materials. The area of printed electronics is very wide, which includes a large number of varied materials and printing technologies. Because it can provide a new functionality to the packaging, printing electronics is seen as one of the emerging technologies for food packaging in the future. 
In his speech on 'Multicolour Printing for Packaging', Prof (Dr) Anastasids Politis from Greece highlighted the significance of Multicolour printing for high quality packages. He highlighted the use of pantone colours, special metallic colours, spot colours and described the packaging workflow. 

Dr. Ashutosh Tripathi (India) spoke on 'Printed Electronics – Opportunities for Indian Print and Packaging Industries'. He gave numerous potential applications for Printed Electronics and the innovations in this field. He discussed the current challenges and elaborated a positive future roadmap for it. 
Speaking on 'Industry 4.0 in the Printing Industry' Prof Gerasimos Vonitsanos (Greece) introduced the smart technologies of the future of Printing Industry. He then gave case studies of the big companies that have already adopted these technologies in a big way. 
A more interactive session on the topic 'Printed Electronics and its Applications in Smart Packaging' was managed by Ms Mukul Shetty (India) who convinced the audience that Printed Electronics is not a faraway unreachable technology. She demonstrated sample products and showed different avenues of applications of the technology. 
Khom Kanta Regmi and Krishna Prasad Parajuli (Nepal) traced the developments of printing in Nepal and expressed their need to adopt modern technologies. They requested Indian printers and researchers to support them with training in these new technologies.
An elaborate report on 'Indonesia Outlook 2022' was given by Tuti Rahaju Buntaran (Indonesia). It was evident that the printers in Indonesia are developing at a fast pace. Tuti said that although they are progressing in packaging, to make their industry smart, they seek guidance from India in a big way. 
A heartwarming presentation on 'Present state of Printing in Sri Lanka and scope for improvement' was made by Peter Deckker (Sri Lanka). Packaging is a primary business in Sri Lanka and many export jobs are undertaken. However, there is a need for support from India in Print education. 
Zulkor Shahin (Bangladesh) presented on 'Present status of Printing in Bangladesh and scope of improvement.' He highlighted the textile printing industry, and its immense export business includes packaging. 
 
Karma Nima and Karma Jurme Yangzom (Bhutan) spoke about sustainable printing in the country of Bhutan. Although there were few printers in Bhutan compared to other countries, big printers have been able to sustain COVID pandemic to a certain extent. Now it is time for them to embrace smart technologies. 
In her presentation on 'Simple versatile products using Printed Electronics' Dr TKS Lakshmi Priya (India) explained with case studies and samples, how small printers can adopt the smart technology with minimum effort and minimum investment. They will give confidence to printers who are hesitant to adopt modern technology. 
A detailed presentation on 'Printed Electronics – Materials and applications.' was made by Dr. Madhura Parag Mahajan (India). She spoke on the parameters and properties of materials needed for Printed Electronics and how it will contribute to the better quality.
The participants were highly interactive during the session and posed numerous questions to the experts and got their doubt clarified. The conference was a revelation to may in terms of the awareness about the state-of-the-art technologies and about scope for new business. Tips to adopt modern technology and directions to seek support also were the outcome of the conference.
The members of Team OPA 2022, who were present on the occasion were felicitated for their challenging work and dedications towards printing and packaging industry. Later appreciating the support of DCRUST, an incredibly special memento was presented to DCRUST. The team which was working for the success of the international conference was also felicitated for their selfless working for the cause of Printing and Packaging industry.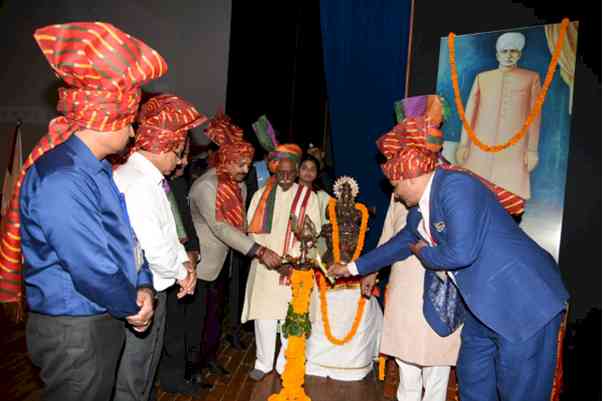 Bandaru Datatraya, Governor of Haryana inaugurated the International Conference at DCRUST, Murthal.