Innocentites welcome spring Season
Create awareness regarding chinese thread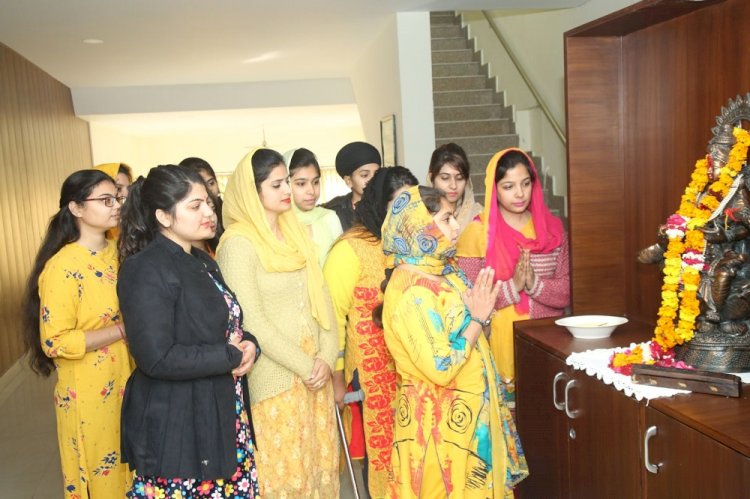 Jalandhar: INNOKIDS – the Pre- Primary school of Innocent Hearts School, Green Model Town, Loharan and Cantt.-Jandiala Road, Royal World International and Kapurthala Road School celebrated Basant Panchmi with the gusto. The day began with the worship of Goddess Saraswati and children recited Gayatri Mantra. The tiny tots of INNOKIDS came in yellow dresses and brought yellow food in their tiffin. The school was decorated with kites. The li'l ones were excited. Teachers and students pinned up bows made of yellow ribbon. The teachers explained the importance of Basant to the students. On this occasion, the students promised to not to fly kites and avoid the usage of Chinese thread. They were mentioned that as the spring come weather changes. Flowers blossom everywhere. INNOKIDS Incharge told to students that festivals bring happiness, so enjoy each and every festival or occasion with full of enthusiasm and respect your culture.  
 
Celebration of "Basant Festival" in Innocent Hearts College of Education
Basant Panchmi was celebration with full vivacity and festivity at Innocent Hearts College of Education, Jalandhar on January 29, 2020.
The college was decorated with yellow rangoli and kites that showcased the vibrate tradition of Punjab depicting the spirit of inner freedom, creative pride and zest for life.
The Function was started by invoking the blessings of Goddess Saraswati. The basic thought of the celebration was 'SAY NO TO CHINESE STRING' and student-teachers were made aware of the important events of Indian history associated with this day. All the student teachers participated in Culinary and Kite flying competition. Winners got prizes in culinary and Kite flying. Fun games and dances were enjoyed by one and all. Mrs. Aradhana Bowry, the Executive Director of College addressed the student-teachers and highlighted that this festival symbolize change, change in season from winter to  colorful springs, thus inspiring the individual to strive for prosperity. Principal Dr. Arjinder Singh motivated the Student-teachers to be progressive learner, setting the big goals and putting dedicated efforts as a promising and flourishing human harvest.