Innocent Hearts College of Education commenced its new B.Ed. session with Saraswati Pujan and Virtual Orientation Programme
The College Principal encouraged the student-teachers to pursue their goal of success with full dedication and commitment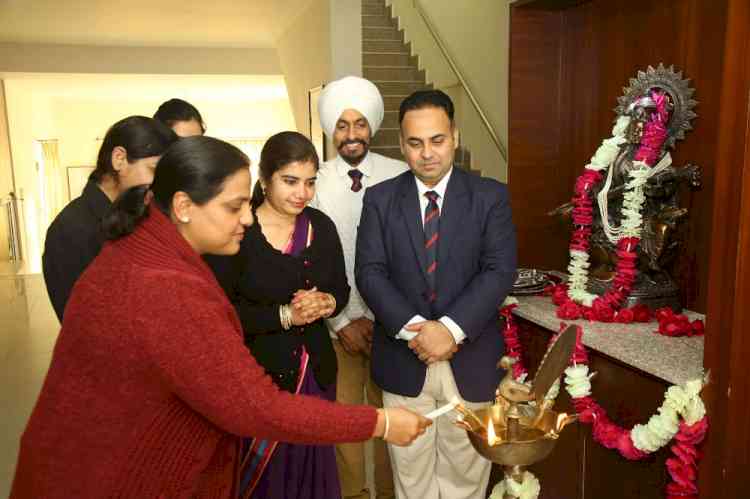 Jalandhar: Innocent Hearts College of Education, Jalandhar initiated the new B.Ed. session (2020-22) with Saraswati Vandana and Online Orientation Session imparting the message that spirituality and excellence go hand in hand. 
Saraswati Vandana was organized in order to seek the blessings of the almighty and to welcome the new students with serene positive vibrations. Puja was performed devotedly by the Executive Director (Colleges) Bowry Memorial Educational and Medical Trust Mrs. Aradhana Bowry, Principal Dr. Arjinder Singh and faculty members with religious zeal and devoutness. 
This was followed by an Online Orientation Programme in which the new entrants were acquainted with the rules, regulations and curriculum of the B.Ed. Programme. Principal Dr. Arjinder Singh hosted the virtual meet and addressed the new-comers. He started by formally welcoming the newly admitted students. Then he briefed the students about the meritorious history of the college, introduced the faculty members and discussed about the various cells and committees run by the college.
Assistant Professor Ms. Tarunjyoti Kaur discussed the scheme of study, co-curricular and NSS activities organised in the college during the whole B.Ed. session. In the end the College Principal encouraged the student-teachers to pursue their goal of success with full dedication and commitment.