Inheritance can grant privileges, but capability is paramount: Gurdeep Punjj on Sony SAB's upcoming family drama 'Vanshaj'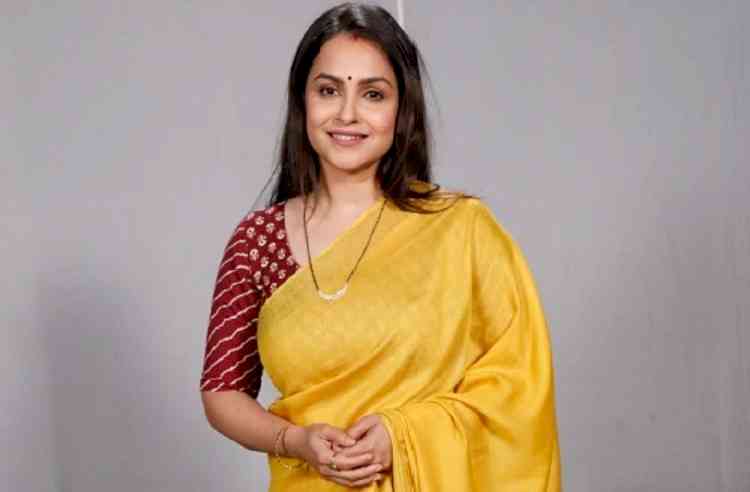 Gurdeep Punjj as Bhoomi from Sony SAB's upcoming show Vanshaj.


Launching on 12th June, airing Monday to Saturday at 10 pm, the show highlights the topic of inheritance versus capability
Sony SAB's upcoming family drama, Vanshaj promises to be a captivating journey that delves into the dynamics of a legacy business empire. At the heart of Vanshaj lies a powerful family navigating through the delicate web of relationships. Viewers will witness the family's trials and tribulations as they navigate through cut-throat politics and power struggles. With its compelling storyline, intense performances, and a contemporary set up with high production values, Vanshaj promises to be a high-octane drama filled with unexpected twists that will leave the audience eagerly anticipating more.
Noted actor Gurdeep Punjj is set to make her comeback on television as Bhoomi Premraj Mahajan with the show. Offering a sneak peek into the show's story, her character, and the audience's expectations, Gurdeep Punjj shares her experiences playing the role of a resilient mother who is the support to her children Yuvika (Anjali Tatrari), Isha (Kanchan Dubey) and Arjun (Buneet Kapoor).
Vanshaj is a family drama with political intrigue, and personal dynamics of a business family, what is your take about bringing this concept on television?
 
Disputes and politics exist in every household, intertwined with love. In the case of the Mahajans, who are portrayed as one of the most influential industrialists in India, the intensity of their disputes will be heightened.  The show's storyline will resonate with viewers, who will recognise these situations and say - this happens in our lives too. With the success of this genre on other mediums, it's a wise move for Sony SAB to present this compelling show with a notable cast.
What do you think about the concept of the show? What do you think is more important when it comes to handling a business empire? Inheritance or Capabilities?
 
Absolutely, capability is paramount, without a doubt! Inheritance may grant you certain privileges but without the capability to carry them forward it is sure to crumble. Building an empire is not limited to just one generation; it is a legacy meant to span generations to come. Therefore, only the most capable individuals should be entrusted with the responsibility of advancing it, and this understanding should prevail within the family, free from ego. However, in reality, family dynamics often complicate matters, as the natural human instinct drives us to favour our own offspring as the rightful heirs to the throne. Hence, such disputes are bound to arise. Ultimately, it is a game where the victor claims the throne.
The show deals with many complex family issues, such as loyalty, betrayal, and power struggles. How does your character navigate these challenges?
 
Vanshaj blends family drama, political intrigue, and cunning dynamics that exist within a wealthy business family. I have realised over time that every family has hidden secrets. The show offers a unique perspective by focusing on its ensemble cast and taking the story forward from the lens of each character. This show goes beyond the cliché of marrying into wealth and depicts the complexities of family dynamics. 
Do you relate to the character of Bhoomi, and what aspects of her personality do you find most relatable?
 
Bhoomi's character resonates with me on multiple levels. As a mother, I share her unwavering commitment to protecting and uplifting my family. Like Bhoomi, I comprehend the realities of life and the significance of embracing them. I guide my daughter, encouraging her to let go when necessary while nurturing her fiery spirit. Having encountered life's challenges in my journey, I bring a sense of wisdom and perspective to my character in Vanshaj. Bhoomi and I share a similar mindset as we navigate the intricacies of family dynamics, trying to unlock the untapped potential within our loved ones.
How did you prepare for your role as Bhoomi, a strong-willed and determined woman with a particular parenting style?
 
I find inspiration for Bhoomi from the strong women in my life. As a mother, I naturally possess the strength to face challenges head-on. The instinct to protect our children is deeply ingrained in human nature, and this instinct will be beautifully explored as Bhoomi fiercely safeguards Yuvika on the show. It's a journey that reflects my personal experiences and brings a unique depth to Bhoomi's character.
Describe your relationship with Yuvika on screen and the dynamics between you'll off screen.
As Gurdeep, I naturally embody the role of a compassionate and nurturing mother. When I take on a show, I wholeheartedly embrace the actors who portray my on-screen kids, viewing them as my own. Playing a mother comes effortlessly to me, and I cherish the opportunity to support and guide these wonderful children, especially Yuvika. My character, Bhoomi, will stand by Yuvika unwaveringly, believing in her abilities and offering relentless support. Together, they will achieve what Premraj couldn't, and I am committed to protecting Yuvika at all costs.
How do you feel about being associated with Sony SAB?
I had always aspired to be part of the Sony SAB family due to their commitment as a brand to present authentic and relatable stories. Known for creating good, relatable, captivating, and enjoyable content with valuable life lessons, Sony SAB has emerged as a living room brand with something for everyone in the family. I am delighted to commence this exciting new journey. 
In your opinion, do you think a woman can lead a business? If so, have you ever encountered one that inspired you in real life?
Certainly! We are witnessing a remarkable transformation where women are not merely managing households but also excelling in leading major conglomerates. Women today are fearlessly stepping up to face challenges and are consistently proving their capabilities, overturning the traditional norms that once held them back. This century empowers women to take their rightful place and assert their authority, be it in empires, politics, or even governing a country. Throughout history, women have repeatedly demonstrated their resilience and prowess, and now, once again, we are poised to shape a future that reflects our strength and determination.
'Vanshaj' premieres on 12th June at 10 PM only on Sony SAB.