India's largest Global Open Fest 'Youth Vibe 2020' commenced at LPU with Basket of Events
Song of the fest to inspire students for struggle and win was also launched on the inaugural day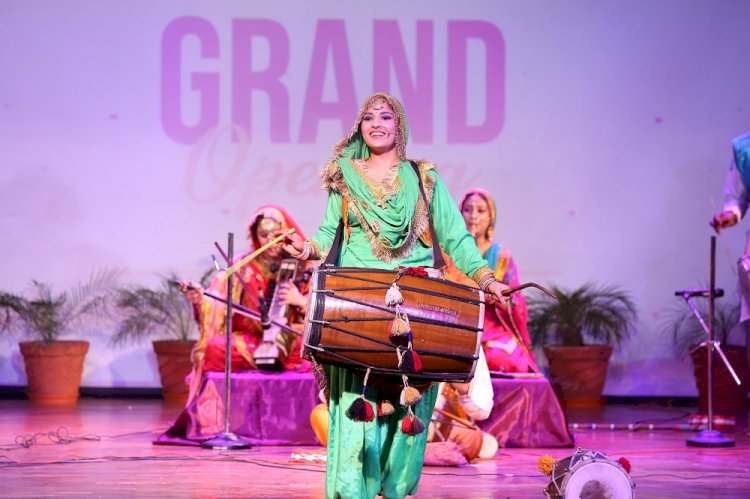 Students from various institutions participating in competitive events in Youth Vibe fest at LPU campus.
Jalandhar: India's largest four-day global open fest 'Youth Vibe 2020' commenced at Lovely Professional University, with basket of events. Near 6500 students of 150+ Institutions from across the country and globe are competing in 11 categories, especially scheduled this year, including Life-Style, Management, Literary, Media, Mega-Technical, Social, Arts & Craft, Dance, Music, Theatre and Sports. Many gainful workshops; extravagant fete; and, more are also there to make students' learning and entertaining experience the best at the fest. Theme of the four-day fest to last up to 16th February 2020 is 'Equity, Diversity and Inclusivity' to provide students a broad platform for propagating global power of brotherhood and oneness. LPU Chancellor Mr Ashok Mittal inaugurated the fest, where song of the fest to inspire students for both struggles and wins was also launched.
Fest is an international platform for students to compete in a spectrum of events for further nurturing their skills and talent. This time community service is also included as it is important for holistic development of the youth. In this regard, a social summit was organized in the initiation, where five heads of different social organizations mesmerized the students Social Activist Sudhir Ahluwalia talked about plants and Ayurveda and asked students to save 5000 types of useful medicinal plants, and so the environment.  Shoaib awakened students on social entrepreneurship for solving social problems intelligently. Ms Shruti of 'Kilkari' NGO informed about feminism, gender equality by having same rules for all genders. 'Datri organization professed stem cell donation; and, Jeev Animal Welfare Society talked against artificial insemination of cows and other animals.
In addition, sports competitions for Kabbadi, Basketball, Chess and Badminton were also held, as per fixtures, on the inaugural day. In the evening, Folk Orchestra team of LPU, which won First Runner-Up Trophy at AIU National Competition, displayed the best of rhythmic team work and spirit. Along with, famous and unique 'Chirmi' dance of Rajasthan was also performed by LPU students. Side by side students enjoyed amazing Bike-Stunts, Monster Nite, Langori Band and the Lost Story.
On the first day of the competitions, students competed for Nritya Natraj (Solo): Classical Dance and Virasat Live & Recorded: Folk Group Dance under Dance category; in Music for Voice of Youth Vibe (Solo/Group): Western singing and Rap songs for Rapstar; for Life Style in YV Paridhan: The Fashion Parade and Mr & Miss Youth Vibe Round 1; in Theatre competition was for Stage plays; for Management students competed under the Boards Room and Ad-Mad Show; for Literary category competition was for YV Ultimate Spokes Person (Hindi/English) and Words Role - Game of words (English); for Media were Foto-Fever YV Reporting, Short Film Making Reporting and Photo Story Reporting; and, in Mega Technical group competitions were for Codzilla/Code Crusher and RC Plane (Sky High)./(Feb 14)