Inauguration ceremony of mushroom cultivation lab 
Event held at Lyallpur Khalsa College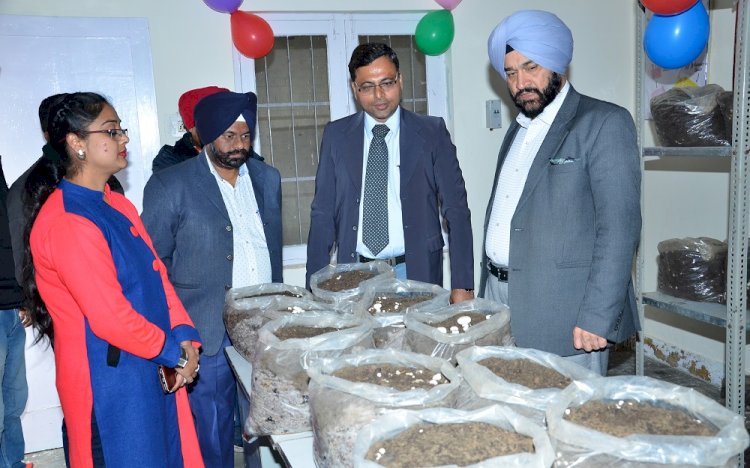 Jalandhar: Inauguration Ceremony of Mushroom Cultivation lab was held today at Lyallpur Khalsa College, Jalandhar virtue of an impressive program. 
The lab was inaugurated by college Principal Dr. Gurpinder Singh Samra. This mushroom cultivation unit has been established under the supervision of Dr. Arun Dev Sharma, (Head Department of Biotechnology) and Dr. Inderjeet Kaur (Assistant Professor). 
Speaking on this occasion, Principal Dr. Gurpinder Singh Samra, inspired students of Biotechnology department to become entrepreneurs and leading figures in the field of science. 
Dr Samra also enlightened the students about the nutritional profile of Mushrooms, health benefits and cost effective methods to set up a Mushroom Cultivation unit. 
Principal Dr. Gurpinder Singh Samra, congratulated the Biotechnology Department on this achievement, whilst appreciating the hard work behind the establishment of this unit. Coordinator of the course/setup unit, Dr. Arun Dev Sharma and Dr. Inderjeet Kaur shed light upon the overall techniques, starting from key parameters required for the growth of mushroom, compost preparation, spawning (Seed Inoculation) and harvesting of mushrooms. It was also mentioned that the college has got approval from UGC to run a certificate course in mushroom cultivation to inculcate skill development quality among students so that they can be an entrepreneur in their upcoming future. Under this course, farmers from different villages can also register themselves to learn about the cultivation of mushrooms by using low-cost, eco-friendly methods and the subsequent benefit from the expertise. Already 55 students are enrolled in certificate course of Mushroom cultivation. 
Dr. Gurpreet Singh, Dr. Harsharan Singh, Prof. Gobind Ram, Prof. Navjot Kaur along with the lab staff and students of Biotechnology department were also present on this occasion.