Inaugural day of FDP on emerging trends in electronics and communication-2020
The experts delivered talks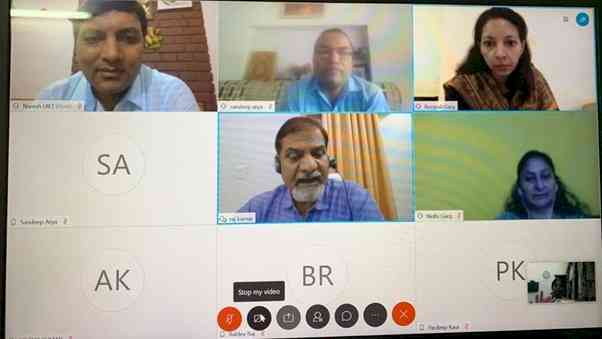 Chandigarh: Department of Electronics and Communication Engineering, University Institute of Engineering and Technology(UIET), Panjab University, Chandigarh inaugurated TEQIP-III sponsored five days Online Faculty Development Program on "Emerging Trends in Electronics and Communication (ETEC-2020)". The FDP scheduled from 4th to 8th Aug 2020 is being organised under twinning activity of TEQIP-III in collaboration with Govt College of Engineering and Technology, Jammu under the guidance & patronage of Prof Savita Gupta, Director, UIET & Er. Sameru Sharma, Principal, GCET, Jammu.  
Resource Persons are experts from IITs/ NITs/ other premier institutes across India. The aim of this FDP is to empower faculty with technical skills to enhance the content delivery and bring in transformations in the teaching learning process. The event has witnessed an enthusiastic response with more than seventy registrations from various institutes.

Prof. Raj Kumar, Vice-Chancellor, Panjab University, Chandigarh in his welcome address emphasised on the collaboration and integration of different streams of academia and industry for a meaningful research activity. He appreciated the new education policy 2020 which shall bring several major reforms in education in India. He encouraged value education to develop an individual and help in lifelong learning in several ways by giving a positive direction to shape their future. Further, the chief guest congratulated the organizing team for the initiative especially during the current crisis. 

The expert talk for first session was delivered by Prof. Sandeep K. Arya, Dept. of Electronics and Communication Engg, G.J. University of Science & Technology Hisar. He talked about the Optical Communication Systems and Networks. He provided the knowledge about different trends available nowadays in optical communication and why Optical fibre is used by many telecommunications companies to transmit signals. Due to much lower attenuation and interference, optical fibre has large advantages over existing copper wire in long-distance, high-demand applications.

The resource person for next session was Prof. Maninder Lal Singh, GNDU Amritsar. Prof. Singh discussed the history of wireless networks and optical networks being used in today's era. He also discussed the wireless optical communication without Laser, known as Li-Fi. Working technology of Li-Fi is discussed in detail. At last he concluded that this new technology is going to solve four basic problems in wireless communication i.e. finite capacity, security, need to turn off phones in hospitals and energy efficiency.

Dr. Naresh Kumar and Dr. Arvind Kumar from UIET and Er. Baldev Raj from GCET are the Event coordinators. The organizing team members are Dr. Nidhi Garg, Dr. Charu Madhu, Mr. Vishal Sharma, Dr. Pardeep Kaur, Dr. Gurpreet Kaur and Dr. Roopali Garg from UIET.