IKGPTU develops Sanitizing Lamp-UV
A solution for sanitizing air, surfaces and objects for the "new normal"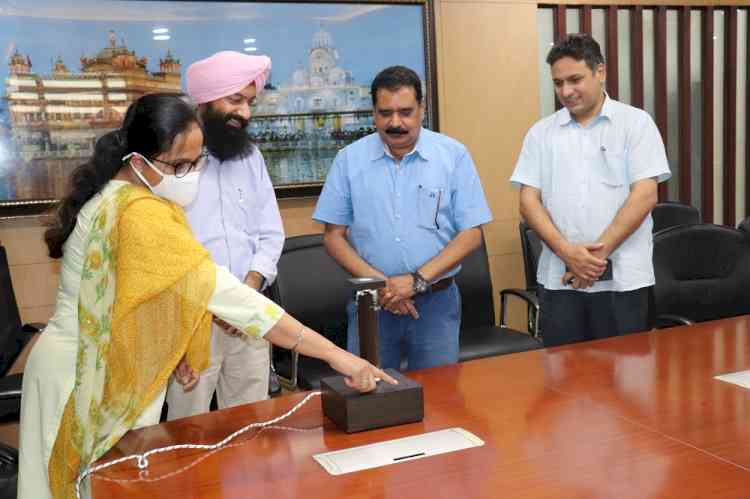 Jalandhar/Kapurthala: In its endeavor for providing solutions for unlocking during the pandemic COVID-19, I.K.Gujral Punjab Technical University has developed a sanitizing lamp that uses Ultra Violet-Type C (UV-C) technology for disinfecting space sand objects. This initiative has been taken by the University's Electrical Department. Vice Chancellor Prof. (Dr.) Ajay Kumar Sharma shared about the facts of this unique product development on Thursday with the media. VC said that the lamp has been designed and developed by Dr. Deepika Bhalla, an Assistant Professor, Electrical Engineering Department. This initiative is a start-up of "Raju Bro Softech Pvt. Ltd." and mentored by IKGPTU under Entrepreneur Development Programme.

Sharing the functioning facts of product, Vice Chancellor Prof. Sharma said, this solution for sanitization is chemical and residue free, and does not damage the wooden polish, soil the upholstery or stain metal surface of furniture and furnishings, nor leave a stubborn residue on the floor like the liquid sanitizers do. It is ideal for use in hotel rooms, home, offices and workplace, hospitals and clinics, cars and cabs, lifts or any other environment that require regular and repeated sanitization. 
Product developer Dr. Deepika Bhalla said that sanitizing by UV-C Technology is not new to the scientific community. Ultra violet Germicidal Irradiation (UVGI) is a disinfection method that uses short-wavelength UV-C light to kill or inactivate microorganisms by disrupting their RNA and DNA, leaving them unable to perform vital cellular functions. Exposure to UV-C light makes the micro organisms like viruses, bacteria, molds, and other pathogens unable to replicate and grow. A pungent odor is expected after UV-C sanitizing due to its effect on dust present in rooms which comprises keratin which is a component of dead human skin cells and cystine-a component of hair and nails. As per the manufacturer of the UV-C tube used in the lamp has an efficiency of 99% for disinfecting spaces and surfaces from SARS-COV-2.The sanitizing lamp has a 22 minutes cycle. Keeping in mind the issues related to the effect of UV-C to uncovered or unprotected skin and eyes, before starting the radiation for sanitization purpose, the lamp gives safe time limit for vacating the room. Along with it the lamp has a sound alarm that keeps beeping as long as it is "on"and it is not advisable to enter the room being sanitized. When the beep sound stops it's safe to enter the room that is sanitized for use. 

In the end, Vice Chancellor Prof. (Dr.) Sharma congratulated the team who was associated in this initiative.