ICONICA at PU: Experts take part in pre-conference workshop
ICONICA is a 3-day global summit on next-gen paradigms in health care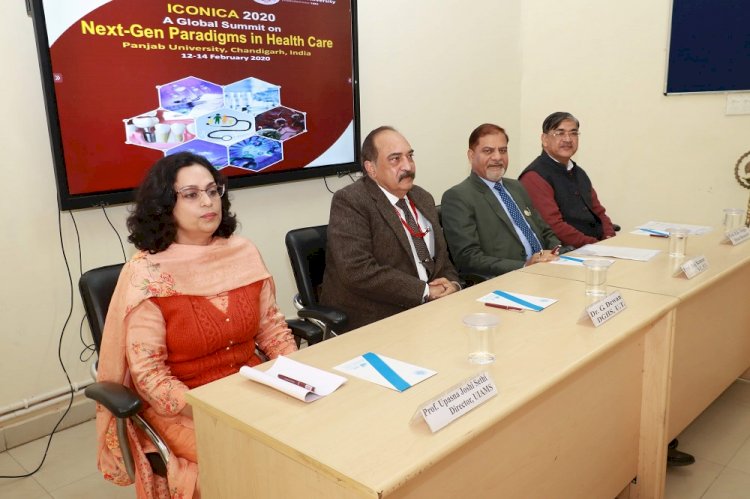 Chandigarh: University Institute of Applied Management Sciences (UIAMS), Punjab University organised a pre-conference workshop as part of ICONICA on Wednesday. ICONICA is a 3-day global summit on Next-Gen Paradigms in Health Care, which is being held at Panjab University from February 12-14.
The workshop was inaugurated by Prof Raj Kumar, Vice Chancellor of Panjab University. Dr. G. Dewan, Director General Health Services, UT Chandigarh was chief guest during occasion. The guest of honour was Prof. RK Singla, Dean Research, Panjab University.
Prof. Upasna Joshi Sethi , Director, UIAMS, welcomed all the dignitaries and presented the theme of the conference.
She highlighted that the workshop aims to introduce a framework for integrated people-centred health services delivery model.
Prof. Raj Kumar, in his presidential address emphasised that quality of healthcare and the cost at which it is provided are the major challenges faced by the healthcare industry in current times.
He observed that it is the management students who have to come forth and play a pivotal role through innovations and start-ups to address these challenges.
Prof. R.K. Singl stated that this conference is extremely relevant in the current scenarios as the world is living out of fear because of the various health threats such as the coronavirus. He further stated through workshops like these we can share the best practices in the healthcare industry with the world, the innovations in healthcare can be brainstormed upon, and the way for timely implementation of these innovations can be discussed.
Dr. G Dewan said that health sector was expanding in multiple  dimensions and management students should aim to utilise their skills to streamline its functioning and reach. He said it was time that all efforts are put to reach the unreached and serve the unserved.
He offered to take students of UIAMS for various flagship projects and internship programmes with the UT Health Services.
During occasion various sessions were conducted by eminent speakers from the healthcare industry.
Dr. Aditi, Deputy Medical Superintendent , GMCH, sector 32 shared the nuances of operational management in the health care sector.
Another session on financial management in healthcare was delivered by Dr. Shankar Prinja, Associate Professor, PGIMER, Chandigarh.
Dr. Rita Kalra, Hospital Administrator, General Hospital, sector 6, Panchkula in her session talked about the effective use of public private partnership in the healthcare industry.
Dr. Bharti Sood, Head Quality, Ojas Hospital, Panchkula shared her experiences on total quality management in hospitals.
The pre-conference workshop concluded with a vote of thanks proposed by Manjushri Sharma, Assistant Professor, UIAMS and workshop convener.