His Excellency Ambassador of Afghanistan visited Lovely Professional University
His Excellency, the Ambassador of the Islamic Republic of Afghanistan to India, Farid Mamundzay visited Lovely Professional University (LPU) where he held important discussions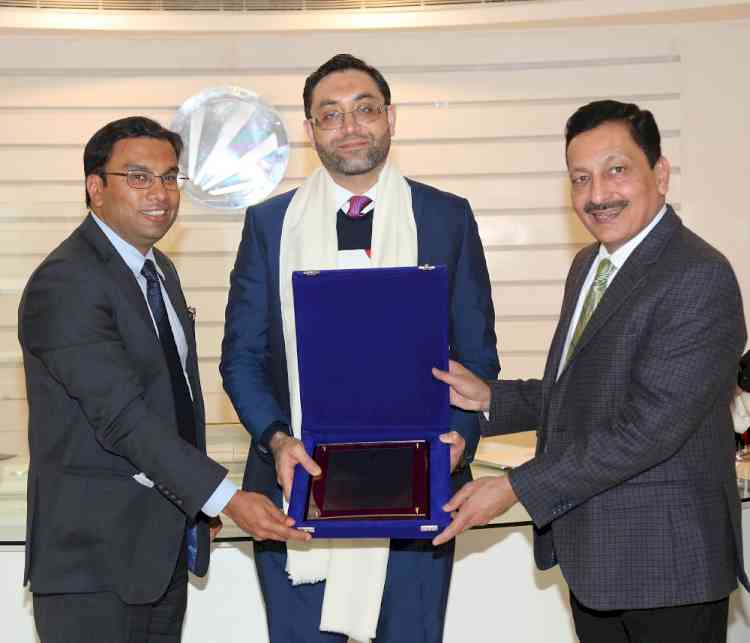 Pro Vice-Chancellor Dr Sanjay Modi and Vice President Mr Aman Mittal welcoming His Excellency Farid Mamundzay Ambassador of Afghanistan to India at LPU campus.


Jalandhar, January 14, 2022: His Excellency, the Ambassador of the Islamic Republic of Afghanistan to India, Farid Mamundzay visited Lovely Professional University (LPU) where he held important discussions with the leadership of the university including Pro Vice-Chancellor Dr. Sanjay Modi & Vice President Mr Aman Mittal.
 
Various views and issues of mutual interest, particularly including the best education being meted out to Afghan students at LPU, were exchanged and discussed upon.
 
While extending his warm greetings to LPU authorities and Afghan students at LPU, Afghan Ambassador Mr Mamundzay shared that he feels a huge potential of top education for the youth of his country in Punjab, particularly at LPU.
 
Having served in various top positions for his country, H.E. Ambassador Mamundzay is a post-graduate in International Accounting and Finance from the University of Birmingham (UK), and as a member of business faculty at the American University of Afghanistan, he has also worked for several UN and international development agencies as an independent consultant. He has authored several articles for academic journals on governance and development studies.
 
Acknowledging the presence of elite guests at the campus, and pulsing the aspirations of Afghan youth; Vice President Mr Aman Mittal assured Ambassador Mamundzay about LPU's continuous support to promising Afghan students. Mr Mittal also apprised the guest how in the hour of crisis whether it was due to pandemic or in the country; LPU advanced needed help to Afghan students so that they might not have an uncertain future. LPU has a 24X7 international affairs office to provide support to the students.
 
Before this, His Excellency, Afghan Ambassador had an informative tour of the campus, and observing Covid-19 protocol, also interacted with a few Afghan students enrolled at LPU Campus.
 
On this occasion, Education Attaché from the Islamic Republic of Afghanistan Mr Sediqullah Sahar, Cultural Attache Mr Hamdullah Arbab and Personal Assistant Mr Mohd Idress accompanied the Ambassador.