Himachal CM dedicates 14 development projects 
Lays foundation stone of 25 schemes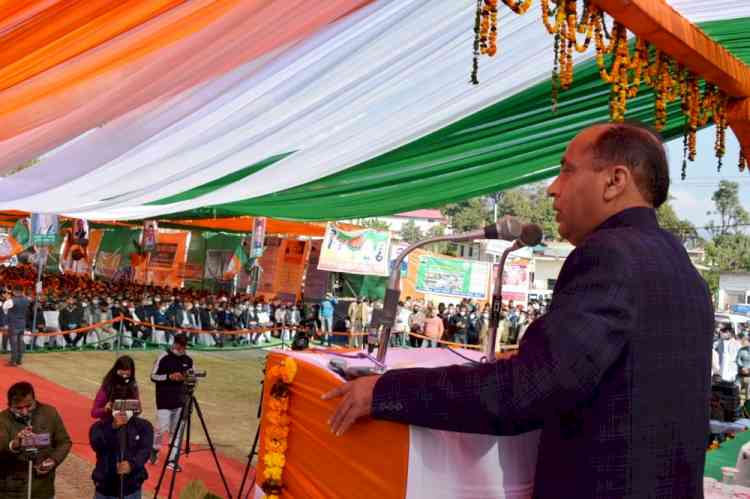 Dharamshala: Chief Minister Jai Ram Thakur said, "Tourism is the core sector of Himachal's economy and it has been badly affected due to Covid-19 during the last nine months.

Addressing a public gathering on Friday at the Gandhi Ground of Municipal Council, Nagrota Bagwan, Thakur urged the people to follow all directions of the Prime Minister in the fight against Covid-19 as no vaccine is yet available in the world.
Jai Ram Thakur asked the people not to let the reign slip out of their hands in the fight against CoronaVirus as the number of Covid-19 cases are again on the rise in the State . He asked the people to take all necessary precautions while being at public places and celebrate all social functions and gathering with complete vigilance. The Chief Minister said ,"work culture has been changed after my Government took over in the State. My government believed in work only and I hope that  government would repeat in the next State Vidhan Sabha elections, scheduled after two years."

Jai Ram Thakur said that the strong and dynamic leadership of Prime Minister Narendra Modi gave India a chance to emerge as a leader in the world. He said that the NDA government came into power in Bihar only because of the vibrant leadership of Modi. 

Jai Ram Thakur said that PWD works worth Rs. 365 crore and Jal Shakti works worth Rs. 150 crore were being executed in the Nagrota Constituency. He announced Rs. 5.5 crore for Architecture College Nagrota Bagwan and Rs. Two crore for Government Degree College, Baroh. He said the Fruit Canning Unit at Hatwas would come up as per need and the Community Center at Nagrota Bagwan would be reconstructed keeping in view the needs of the urban community after studying the proposals. He announced upgradation of Government High School (GHS), Jalot to Government Senior Secondary School (GSSS) and Veterinary Dispensary Suind to a Hospital and opening of Patwar Circle at Tharu. He assured to sympathetically consider the proposal for opening of BDO Office and constructing Combined Office Building at Baroh.

Earlier, Chief Minister Jai Ram Thakur dedicated 14 development projects to the people of Nagrota Bagwan constituency here at Gandhi Ground of Municipal Council at Nagrota Bagwan and lays foundation stones for 25 other schemes relating to various departments, both at a cost of Rs. 231 crores.

HP Vidhan Sabha Vipin Parmar, Industry Minister Bikram Singh Thakur ,MP Lok Sabha Kishan Kapoor , Social Justice and Empowerment Minister Sarveen Chaudhary, Forest Minister Rakesh Pathania, MP Rajya Sabha Indu Goswami, MLAs Rita Dhiman, Mulk Raj Premi, Local MLA Arun Mehra, Ravindra Dhiman and Vishal Nehria, former MLA Surendra Kaku, Chairman HP Wool Federation Trilok Kapoor, Vice-Chairman SC & ST Corporation Jai Singh, DC, SP and other senior officers of the District Administration were also present on the occasion.