Guardians of Environment gather at RGC to discuss 'Green Manifesto for Punjab'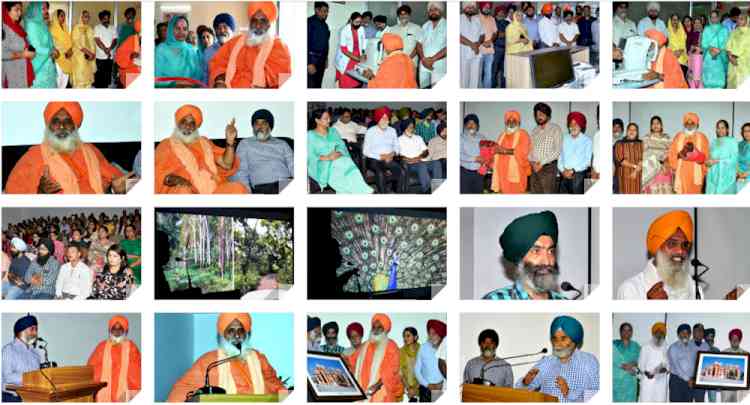 Ludhiana, October 23, 2021: Ramgarhia Girls College and  P.A.C Mattewara and Sutlej organised a seminar on "Green Manifesto for Punjab and Guardians of Environment" in association with N.S.S Unit of the College. The draft has been prepared by collaborative efforts of many environment NGOs across Punjab and includes more than 30 points on which they demand that the political parties should address in their manifestos for the upcoming election in 2022.  
Eco warrior, Padam Shri Sant Balbir Singh Seechewal was the chief guest. He also inaugurated Sankara Vision Centre, a unit of Sankara  Eye Hospital at the first floor of Gurudwara Sukhsagar Ramgarhia. 
Patron of Sankara Eye Hospital, Ludhiana and President, Ramgarhia Educational Council, S. Ranjodh Singh accompanied by Offg. Principal Dr. Rajeshwarpal Kaur accorded a warm welcome to the esteemed guest. 
Members of P.A.C, Members of Ramgarhia Educational Council and Principals of various Ramgarhia Institutions  were  also present on the day. 
S. Kashmir Singh( Sekhowal), Dr. Navneet Bhullar,  A.G.A.P.P, NGO and S. Harpal Singh and Col. Chander Mohan Lakhanpal  also marked their presence. Seechewal made the audience aware about the immediate need to be environmentally conscious. The negligence on the part of the educated class of society has adversely affected nature. Students can play a vital role in spreading awareness among masses because public participation may change and improve the quality of environment. He added that One does not need to put lot of money to go green but simple changes in daily lifestyle is all what is required to reduce your carbon footprint on the environment.  
S.Ranjodh Singh and Public Action Committee have been striving hard to save Mattewara Forest Reserves. He said that the forests absorb impurities from emissions. Forest management means availability and sustainable use of these natural resources. He added that low- cost community- managed micro- sewage technology that Baba Seechewal developed is now a ray of hope to rejuvenate India's longest river- the Ganga. 
S.Ranjodh Singh also presented  PPTs that displayed the beautiful flora and fauna of the Mattewara forest and discussed green manifesto for Punjab. He urged everyone present to become a guardian of environment.
S. Jaspal Singh from Guru Gobind Singh Study Circle said that the PPTs should be aired on social media platforms in order to make everyone aware and stand in solidarity to save the forest reserves. 
S. Jaskirat Singh also discussed the measures to make Punjab a land of clean rivers and increase green belt. Beautiful image of 'Nirmal Kutia' at Sultanpur Lodhi, residence of Baba Seechewal, and Picture of Darshani Deodi of Golden Temple captured by S. Ranjodh Singh was presented to the guests. Offg.Principal Dr.Rajeshwarpal Kaur thanked all present.