Careers in Home Science
Home Science teaches you the art of using things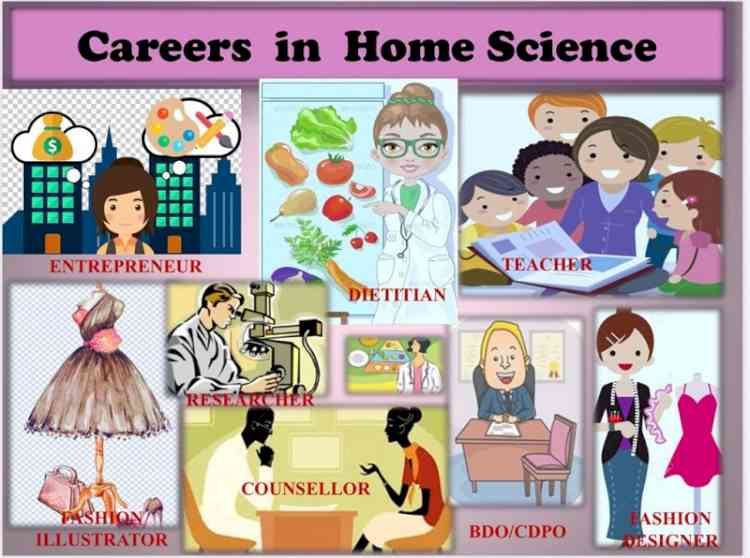 Home Science is a unique field of knowledge. It's inter-disciplinary approach in synthesizing knowledge drawn from physical and biological sciences, social sciences, arts and humanities has enriched its educational programmes. It caters to the present days' requirements of education in order to meet the rapidly changing demands of family life, provides life skill education in the multiple roles that woman has to play in home as well as professional life. A career in Home Science is best suited for modern women with keen aesthetic sensibilities in contemporary arts & modern housekeeping among others. It is an important mélange of science and art within a changing society by taking the help of scientific knowledge and methods. Home Science teaches you the art of using things so that a harmonious whole is achieved and an overall pleasant effect is created. At the same time, it gives you all the scientific knowledge of the procedures involved in making a home aesthetic.
In today's fast paced life, where we are all dealing with stress and anxiety, home science as a discipline, endows you with basic life skill education to help you sustain and strike a balance between professional and personal lives.   The role of a homemaker has larger implications as she nurtures the family and indirectly the society. Home Science education is designed and structured around the urban home makers, their family and community. Home science as a field of study is application and skill oriented which prepares one for many professions.
One can specialize in any of the five streams of home science - Food and Nutrition, Interior Design and Resource Management, Human Development and Family Relations, Fabric and Apparel Science, Extension Education and Entrepreneurial Development or have a general understanding of all streams. The different areas of specialization also concentrate on providing suitable training to the students for various job opportunities. Today we are fighting for our basic survival through the 3 main necessities, roti, kapda and makaan. Home science gives you an insight into all the 3 necessities as well as beyond it. Thus, Home Science empowers woman at personal, professional, social, entrepreneurial and economic fronts.
In the light of changing time trends and vocationalization, there is increased awareness about health and disease and its prevention and management. The knowledge behind Foods and Nutrition, equips you not to just offer nutritive meals to your families, it goes beyond the four walls of your home. Diverse job opportunities exist in front of nutritionists and dieticians in India. Both Government and private sector job opportunities are available. The trained graduates and postgraduates are absorbed in hospitals, industrial units, hotel industries, and health fitness clubs. They can also work as teachers, counsellors, consultants, wellness experts and field workers in extension education and community development programmes especially with renowned names such as UNICEF, WHO, NIN.
The field of clothing and textiles, is much sought after and caters to the needs of textile and apparel industry which offers various relevant skill oriented courses. Students undergo various design concepts, theories and computer applications. These courses aim at equipping the students with necessary proficiencies for a wide variety of careers with entrepreneurial skills and placements in apparel/fashion and textile industries. Even at the time of this pandemic, it has bought a surge to the industry of textiles, with all big brands now making masks hereby giving us an idea about the adaptability of this field.
The specialization of Family Resource Management aims at creating and adopting sustainability, conservation and efficient use of resources to achieve personal and family goals. The curriculum focuses on imparting students with the knowledge to enhance functionality, aesthetics and ergonomics of interior spaces. These courses are comprehensive and well-structured inculcating professional and practical skills.
The department of Human development and family relations prepares students for careers in public and private human service agencies. It lays emphasis on learning to help individuals and family to understand needs, different developments, challenges/hazards,issues of concern and possible remedies or steps for different stages of human development and family relations. 
Hands on training in counseling – nutritional and psychological is imparted, an important tool in today's world keeping view the highly stressful environment that we all live in and emphasizes upon the need to be physically as well as mentally healthy.
All these courses offer hundred percent self-employment and placement opportunities which cater to the present days demand of specialized expertise at all levels, viz. Regional, National, and at Global Level.
The Curriculum has specialized courses in sync with industry - academia needs. It keeps in mind innovation and to help develop a strong practical base. It emphasizes upon development of entrepreneurial and vocational skills. A vast practical exposure through internships, field visits, project work, expert lectures, demonstrations, workshops and seminars is provided to the students.  The courses focus on updating with National and Global issues and concerns. Extension and community outreach forms an integral part of all the coursework.
 
In anticipation of the changing environment and also the changing skill sets of professionals in modern industries, Home Science is a course which is relevant, holistic, contextual and specialized.  It offers facilities for academic excellence, cultural enrichment and physical fitness of the students to build a multifaceted personality and prepares them to face the challenges that lie ahead. Home Science as a discipline aims to prepare young girls into skilled human resource with rich moral and social values who can give their best for the national development.
Contributed by:
Government Home Science College, Chandigarh.