Gippy Grewal announces his next film 'Widow Colony' dedicated to 1984's anti-Sikh riots
The film 'Widow Colony' is all set to go on floors from 2021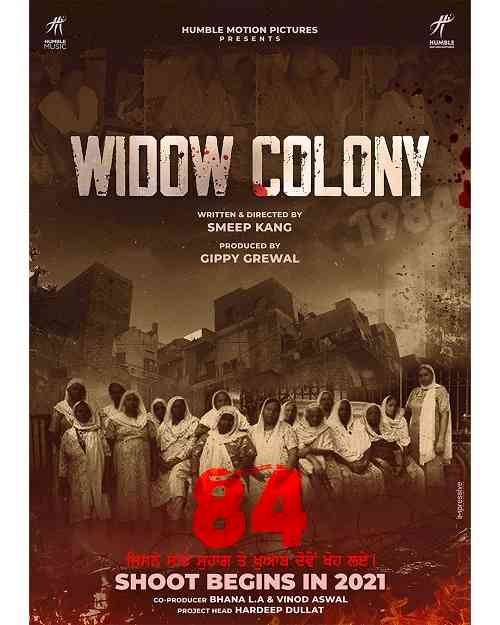 Chandigarh: The year 1984, even after more than three decades, the memories of that Sikh Massacre is still fresh in everyone's mind, and is not going to fade away soon. However, time and again, filmmakers try their best to showcase the emotional, physical turmoil people faced during the riots in different lights. This time, Gippy Grewal and Humble Motion Pictures are all set to present this story from the perspective of those who left behind, the widows of the 1984 martyrs in their upcoming project 'Widow Colony'.

A colony, in Tilak Vihar in New Delhi, commonly known as 'Widow Colony', is a place where the government provided shelter to thousands of families affected by the Sikh Genocide of 1984.

Gippy Grewal recently, took his social media account to announce this film. The story of the film has written by Smeep Kang, who is going to direct the same. Gippy Grewal is going to produce the whole project. Vinod Aswal and Bhana La are the Co-Producers of the project and, Hardeep Dullat is Project Head. The shoot of the film will start in 2021.

Sharing his thoughts on this project, Gippy Grewal said, "Widow Colony, the name itself is sad enough to explain the tragedy and hardships, the people are going through in it. When Smeep Ji, came up with this concept, I felt like this is the subject which needs to reach out to people. And we at Humble Motion Pictures will try our best to cater to this emotional tragedy with utmost sincerity and authenticity. I hope the audience will appreciate this with love and empathy."

The director and writer of the film, Smeep Kang said, "When I wrote this story, I didn't want a mere bankrolling producer, I wanted someone who will not only understand this subject personally and will involve in it completely. I am sure; no one except Gippy Grewal can do justice to this. I hope we will be able to deliver a project with which every Punjabi all around the world will connect to."

The film 'Widow Colony' is all set to go on floors from 2021.