Gandhi Jayanti celebrated with great fervor at Amity University 
Various films were screened during the valedictory function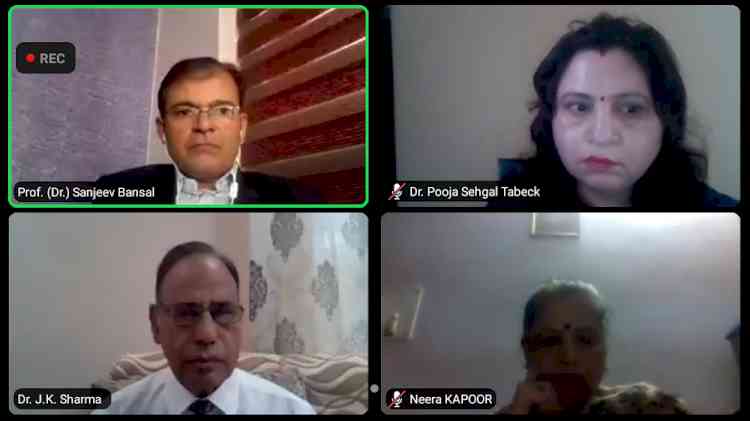 Marking the 151st Birth Anniversary of Mahatma Gandhi and to sensitize students on the Swachh Bharat Mission, several webinars and online competitions were organized by various departments of Amity University. 
 
An essay competition too was organized on the theme "Self-Reliant India: The Ideas of Fully Independent India" and Contribution of Mahatma Gandhi's Ideas to the development of humanity". Students also participated in slogan writing and poster making competition. 
 
Dr. Ashok Kumar Chauhan, Founder President, Amity Group of Institutions and Dr. Atul Chauhan, Chancellor, Amity University, Uttar Pradesh congratulated all the students, teachers and staff on Gandhi Jayanti. 
   
Sharing her views in a webinar on 'Air Pollution due to Road Traffic and its Health Impacts', Dr. Anuradha Shukla, Retired Chief Scientist & Acting Director, Central Road Research Institute (CRRRI) averred that rapid population growth, industrialization and urbanization has led to rise in income. & rise in ownership of vehicles. This has further caused increasing traffic and air pollution. She stated that present urban transport scenario is not sustainable and how air pollution is attributable to road transportation. She further added that road dust build-up depends on pavement characteristics, traffic intensity, speed etc and how road dust contributes to 25-40% of air pollution. She shared that 90% of global population is breathing unhealthy air as per global studies and in India more than 70% cities do not meet prescribed national air quality standards.  
 
Citing health impacts, Dr. Shukla averred that it was necessary to shift from private mode to public mode of transportation and called for a need to holistically address the entire spectrum of exposures and health outcomes due to transportation. This session was organized by Amity Institute of Biotechnology.  
 
In another session organized by Faculty of Management Studies, students were given deep insights on 'Swacchta Campus Initiatives & Best Practices' by Professor Neera Kapoor of Indira Gandhi National Open University and Prof. N.K. Sharma, Professor, Economic & Financial Management, Rajasthan University.  
 
Professor Kapoor averred that cleanliness in the campus is only possible when students and faculty members work together and understand their responsibility.  Students were also informed about keeping the campus mosquito-free and make use of glass bottles in place of paper cups and how they can play a crucial role in educating other people about maintaining cleanliness.  
 
Prof. Sharma stressed on taking cleanliness as a movement and ensure that every person adopts cleanliness at all levels. He also briefed about the cleanliness drive conducted by NSS volunteers in the University of Rajasthan.  
 
Dr. Balvinder Shukla, Vice Chancellor, Amity University shared that the objective of the webinar was to make students aware of the various initiatives being undertaken by other students to keep their campus clean.   
 
Amity Institute of Aerospace Engineering also organized a guest lecture on the theme "The Importance of Peace Education in Our Life". In this webinar, Ms. Poonam Sherawat, Peace Education Program Coordinator, The Prem Rawat Foundation shared insights with the students. She stated that without mutual love, peace is not possible and how many of us have forgotten the need for peace in life. She also advocated for possessing selfless love to acquire peace.   
 
Another session on 'Solid Waste Management' was organized by Amity Institute of Environmental Science and Amity Institute for Environmental Toxicology, Safety and Management.  
 
The session saw Dr. Lakshmi Raghupathy, Former Director (Retd.) Ministry of Environment & Forests, Consultant, Environment & Waste Management along with Mr. S. Sampath, President & CEO – Samkitec Resources, Managing Director – Pyrogreen Energy Pvt. Ltd. who shared insights on the subject with the students. Dr. Raghupathy said that India is among top 5 generators of e- waste. She added that Industry- Manufacturers, Producer, Product supply chain links, Corporates/ Bulk Users, Municipalities, Research Experts etc are some of the e- waste generators with lack of functional take- back system, bulk consumer- dispose by actions were some of the e-waste issues in India. Mr. Sampath said that said that there is a stringent need reduce volume of the waste being produced, avoid greenhouse gases, and look for replacement of fossil fuels.  
Various films were screened during the valedictory function in collaboration with CMS Vatavaran highlighting the Swachh Campaign carried out in the rural sector.