Former Judge Supreme Court Justice Swatanter Kumar interacts with Aryans Law students in webinar
Justice Swatanter Kumar while expressing serious concern said virus has shaken ground of earth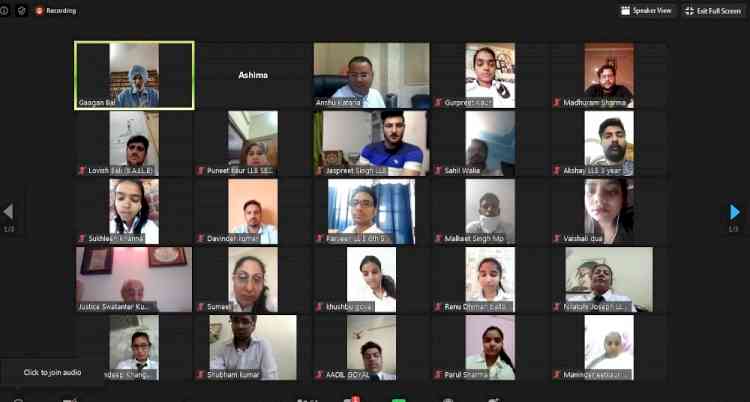 Ludhiana: Aryans College of Law, Rajpura, Near Chandigarh organized a webinar on COVID-19: Effects on Nature & Environment. Hon'ble Mr Justice Swatanter Kumar, Former judge Supreme Court of India, Former Chairperson NGT was the keynote speaker while Advocate Gagan Pradeep Singh Bal was the conversationalist and Dr. Anshu Kataria, Chairman, Aryans Group welcomed the guests. Hundreds of LL.B and B.A-LL.B students attended this webinar.
Justice Swatanter Kumar while expressing the serious concern said that the virus has shaken the ground of the Earth. Commenting on the controversy that is covid-19 manmade or natural disaster he connected it with the lifestyle and relationship with the nature & environment.
Justice Kumar while discussing the positive aspects said that the less interference of humans in nature & environment has resulted into the purification & cleanliness of Air, water, soil and lesser waste disposal while the virus has adversely affected the health & socio- economic level globally. He appealed not to destroy the natural resources.
Advocate Bal also emphasized on a clean environment and for its maintenance he also laid stress that the provision of the environmental act deserved to be adhered to and followed strictly in the Country.