For increasing number of beds for covid patients, portion of CHC Jawaddi might be converted into covid care centre: Ashu
Bharat Bhushan Ashu visits community health centre in Jawaddi today and issued necessary instructions to staff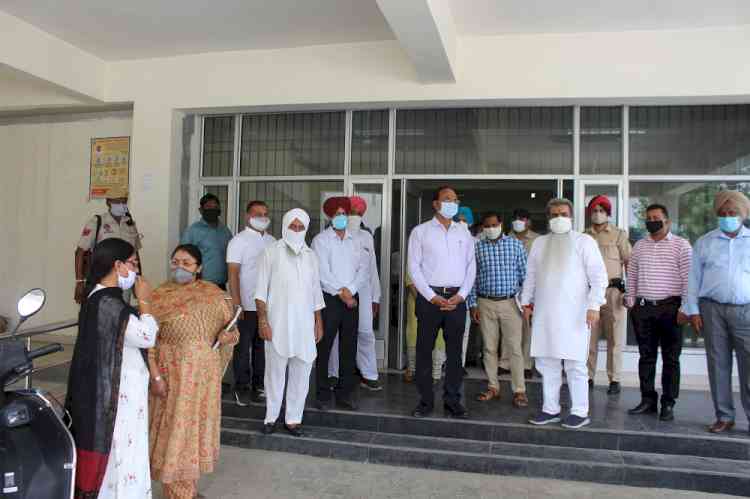 Ludhiana: Punjab Food, Civil Supplies & Consumer Affairs Minister Mr Bharat Bhushan Ashu today said that as the number of Covid positive patients is increasing in the district, there is a need to develop more such level 2 and level 3 healthcare facilities. He said that one such Covid Care Centre can be started at Community Health Centre (CHC) Jawaddi as an entire floor is lying vacant that can put to use.

    During a visit to the CHC Jawaddi today, he informed that Dr RP Singh from Pancham Hospital was brought to the CHC Jawaddi and they are discussing to take logistic support from him, as well as at least one ward in Pancham Hospital can also be used to increase the number of beds in district.

    Mr Ashu urged other private hospitals to come forward during today's testing times and provide all kind of support for strengthening the government healthcare facilities. He said that for the welfare of Ludhiana city residents, Covid 19 testing is now being done totally free of cost at Civil Hospital Ludhiana, Mother Child Hospital near Vardhman Mills on Chandigarh Road, Meritorious School near Nehru Rose Garden, here, CHCs at Jawaddi, Subhash Nagar and Giaspura. Besides, the sampling is also done at Police Lines (for police personnel) and at Central Jail (for inmates/undertrials) and by mobile teams in containment/micro-containment zones.

    With the efforts of Mr Bharat Bhushan Ashu, the Indian Medical Association (IMA) Ludhiana have agreed to operate the Lord Mahavira Homeopathic Medical College & Hospital as a Covid Care Centre. Mr Ashu thanked both IMA Ludhiana and the management of Lord Mahavira Homeopathic Medical College & Hospital for assisting the district administration in this hour of need. He said that he is also in talks with other private hospitals for taking over the government hospitals so that best healthcare services can be provided to the residents.

    He directed the district administration officials to ensure that there is no shortage of beds for patients in Ludhiana and services of more private hospitals should be taken in the interest of people.

    He was also accompanied by Deputy Commissioner Mr Varinder Kumar Sharma, ADC (Development) Mr Sandeep Kumar, MC Councillors Mrs Mamta Ashu and Dilraj Singh, besides several others.