Flower show at Lyallpur Khalsa College
Event participated in by representatives from educational institutes, nurseries and tool industries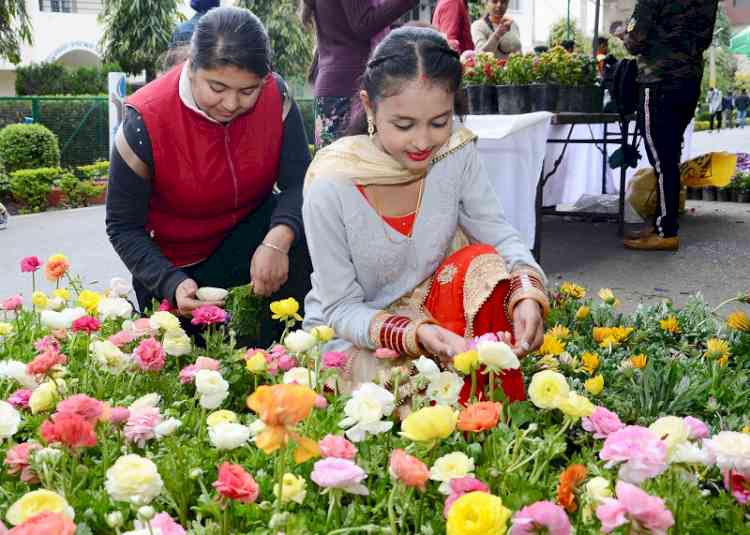 Jalandhar: Lyallpur Khalsa College Jalandhar displayed its connection and attachment with elements of nature by conducting a first of its kind Flower Show 'Aaaraish-E-Gul' Bloom Carnival 2020 in the campus here today which was participated in by representatives from Educational institutes, Nurseries and Tool Industries. 
The program saw the presence of Mr. Manjinder Singh, Additional Session Judge along with his wife Mrs. Jasleen Kaur whereas Mr. Kapil Aggarwal Civil Judge and his wife Mrs. Ashu Aggarwal also graced the occasion as special guests. They were duly welcomed to the college with a bouquet of flowers by Principal Dr. Gurpinder Singh Samra and coordinator of the show, Dr Simranjit Singh Bains. Speaking on the occasion, Principal Dr. Gurpinder Singh Samra expressed his delight on the latest initiative by the college to highlight the importance of Floriculture and the flower show as an important step in the beautification of the surroundings as well. 
Dr. Gurpinder Singh Samra congratulated the staff and the students for their active participation in the carnival and said that it is the duty of every individual to put into practice his/her share of responsibility towards environmental protection. 
Dr. Samra also informed that the college enthusiastically participates in the annual Flower show organised by Guru Nanak Dev University and the previous edition of the same competition also saw the college teams claiming top overall positions in all categories. 
The judgment duty was duly performed by Dr. Jaswinder Singh Bilga and Dr. Satwinderjit Kaur, Guru Nanak Dev University, Amritsar. The winners and participants were duly honored along with the team of staff members for the event and the college gardens maintenance staff. 
Vote of thanks on this occasion was presented by Prof. Simranjit Singh Bains whilst the stage was managed by Dr Geetanjli Moudgil.