FIVE DAY ONLINE INTERNATIONAL WORKSHOP BY GGN KHALSA COLLEGE STARTS
THE ONLINE WORKSHOP WAS SUPPORTED BY CISCO TEAM MEMBERS MAHAVIR GUPTA, JAGBIR SINGH AND NISHANT LAVANIA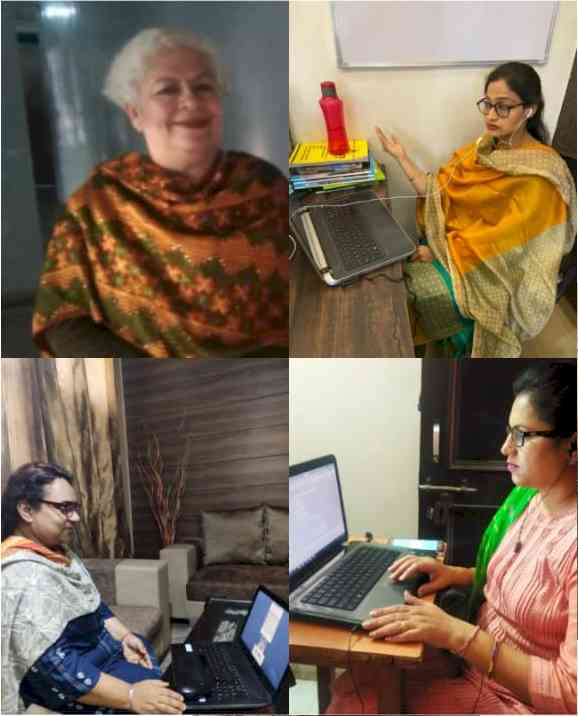 Ludhiana: The Community College of Gujranwala Guru Nanak Khalsa College, Ludhiana in collaboration with Department of Communication Skills and P.G. department of English organized 5-day International Online Workshop on Skill Development through Communication Skills from 27th April 2020 to 1st May 2020. Principal of the college Dr. Arvinder Singh said that the resource persons from various fields and of various specializations shared their expertise with the participants. He informed the media that 2 resource persons namely Mr. Navpreet Arora & Mr. Jasleen Bindra were the experts from Canada while from India Dr. Deepti Gupta, Chairperson Deptt. of English & Cultural Studies P.U. Chandigarh was the Chief guest of Inaugural session and Dr. J.S. Anand Professor Emeritus, Institute of European Studies & Research, Belgrade, Serbia would be the Guest of honour. He also added that Scholars from various fields of communication would be resource persons of the 5 day workshop.
Mrs. Jyoti Singh from Regional Institute of English Chandigarh provided tips on Communication competence, Prof. Navjot Kaur from Guru Gobind Singh College, Chandigarh focused on professional development with focus on interview skills. Prof. Sapanpreet Kaur from school of Science & humanities, Thapar institute of Technology elucidated Albert Mehrabians Model of communication and Dr. Kulbhushan Kumar of eternal university, Baru Sahib was the resource person on phonetics.
Dr. S.P. Singh, President of Gujranwala Khalsa Educational Council and former Vice-Chancellor, Guru Nanak Dev University, Amritsar applauded the efforts of Prof. Asha Rana, director of workshop & Head of P.G. dept.  of Computer Science, Nodal Officer of Community College for her untiring efforts for arranging WEBEX video conferencing application to run the entire workshop. Google classrooms and WhatsApp group are also made for sharing assignments and material to participants. Dr. S.P. Singh said that almost 700 participants had registered for workshop out of which more than 65% are academicians.
Dr. Hargunjot Kaur, Co-ordinator of the workshop informed that sessions were both lecture based as well as interactive wherin feedback for each session was recorded. Dr. Sushminderjeet Kaur, convener & Head P.G. Dept. of English proudly said that participants within as well as outside the state had registered.
The online workshop was supported by CISCO team members Mahavir Gupta, Jagbir Singh and Nishant Lavania.