Fit India Freedom Run 2.0 organised at Lyallpur Khalsa College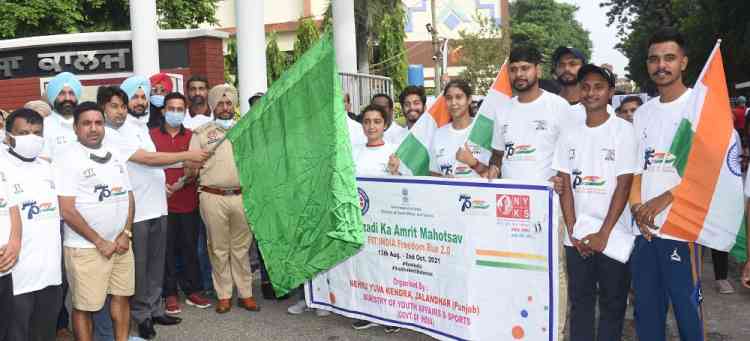 Jalandhar, September 4, 2021: NSS unit of Lyallpur Khalsa College, Jalandhar in collaboration with Nehru Yuva Kendra, Jalandhar under the direction of government of India, organized Fit India Freedom Run 2.0 to commemorate India's 75th freedom anniversary. 
Deputy Commissioner of Police, Jagmohan Singh was the chief guest of the event. In addition, IAS officer, Ojaswi Alankar attended the function as special guest. 
College Principal Dr. Gurpinder Singh Samra welcomed the guests with bouquets. In his welcome address, he inspired the youth to do regular exercise in the morning to stay fit. He emphasized that youngsters are the future of nation and Covid-19 pandemic has given us a wake-up call that to shield our body from diseases regular exercise is better option than medicines. 
Then Deputy Commissioner of Police Jagmohan Singh said that participation in sports and cultural activities give positive message to students. 
Special guest IAS officer Ojaswi Alankar told students to work hard consistently in order to get success in life. 
Fit India freedom run started from the sports ground of Lyallpur Khalsa College, Jalandhar. Students ran upto Jalandhar Cantt and ended the run by returning at LKC ground. 
The program was managed by chief program office Prof. Satpal Singh. Dean Sports S.S.Bains, Prof. Sandeep Ahuja, Program officer Dr. Priyank Sharda, Dr. Navneet Arora, Dr. Amandeep Kaur, NYK District Incharge Nitya Nand, former student and singer Dalwinder Dyalpuri also contributed in the successful organization of the event. 
Program Officers and volunteers of NSS units of different colleges participated in this event with zeal and zest.