FICO URGED CM PUNJAB TO ALLOW INDUSTRY IN MLU AREAS ALSO TO OPERATE FROM 03RD MAY ONWARDS
SAYS THERE ARE LOTS OF INDUSTRIES LYING IN MIXED LAND USE AREAS IN LUDHIANA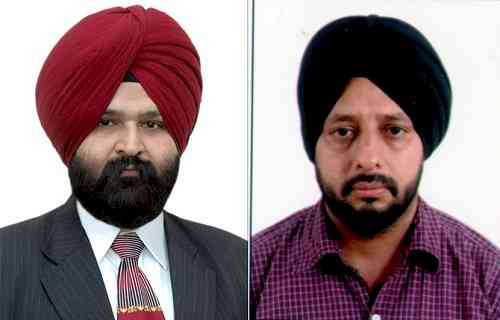 L-R: FICO president Gurmeet Singh Kular and secretary Dinesh Singh Bhogal.
Ludhiana: Government of Punjab is deciding to allow the industries outside the City Limits as well as in designated Industrial Focal Points beyond 03rd May 2020. Gurmeet Singh Kular, President, FICO (Federation of Industrial & Commercial Organization) along with Dinesh Singh Bhogal, Secretary, FICO requested Captain Amarinder Singh, Chief Minister, Punjab to allow the industry in MLU Areas also.
There are lots of industries lying in Mixed Land Use Areas in Ludhiana, where the plot sizes are also very minute 50 sq. yards to 100 sq. yards, majorly this industry falls under the Tiny & Micro Segment which operates on limited number of staff, where the social distancing is very easy to observe. Moreover, the small units are the vendors of the large units and supply mandatory goods to large units, if small don't run, then running of large units is also difficult.  So, it is requested to allow the MLU industry also to operate when the other industries will be permitted.  
 
Moreover, 03rd May 2020 onwards, Government is asking the factory owners to arrange the Buses to pick & Drop the labours, which is quite not possible, as the labour resides in density populated areas of the cities where the streets are on the tacky side, and buses cannot move through such areas. Rather it is advised that the labour & workers should be allowed to travel on their bicycles, motorcycles etc., wearing proper masks, so that the social distancing can be observed. The industrialists assure the masks, sanitizers and other necessary safety for its workers, they said.