FICO demands link between Focal Point and Dhandari Industrial Areas 
Gives memorandum to DC Ludhiana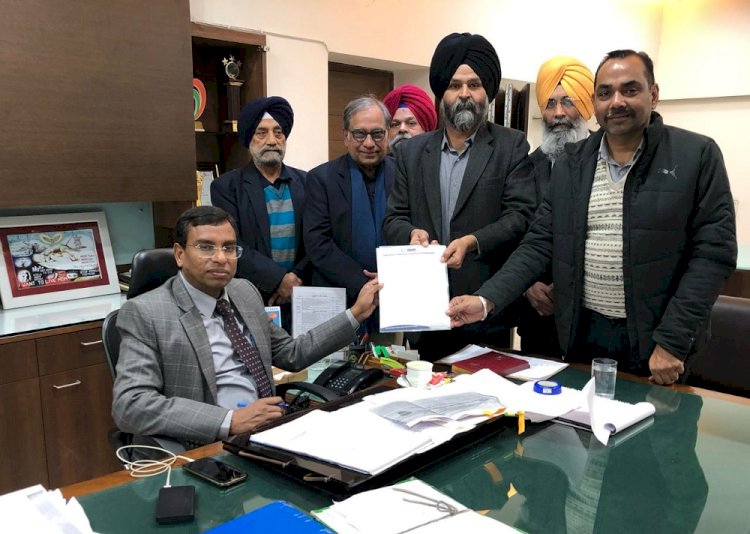 Ludhiana: The delegation of FICO under the leadership of Gurmeet Singh Kular President FICO along with Rajeev Jain General Secretary FICO, met Pardeep Aggarwal Deputy Commission Ludhiana, and discussed in detail about various issued of Focal Point and Dhandari Industrial Areas. A memorandum was also submitted to DC.
The delegate members said there is an urgent requirement of an underpass/ bridge linking the Focal Point with Dhandari Industrial Area on G.T. Road for smooth flow of industrial traffic both ways. It will not only reduce the congestion on G.T. Road, but also save the precious time of the Industry.
Delegates also took up the issue of worst condition of Giaspura to Kanganwal underpasses on G.T.Road. They pointed out that the condition of all underpasses from Giaspura to Kanwanwal on G.T. Road, Ludhiana is very bad. There are huge potholes, stagnant water, which result in the heavy congestion in traffic flow, the things turn so bad during peak hours that the traffic hardly crawls. They apprised Dc that all ancillaries are in Focal Point and the major units such as Hero Cycles, Avon Cycles, Ralson India, are in Dhandari; the poor condition of underpasses/non-availability of proper linkages, badly hit the industry that the transportation time takes at least 4 times extra, than it should.
Further, delegates said the Infrastructure of Focal Points are in its worst shape ever, the condition of the roads and the sewerage in the Focal Points is so miserable that the industrialists feel ashamed to bring their customers to factories through these roads. The condition of the roads is so poor that the movement of goods is done at the risk. Moreover, female staff and workers are showing reluctance in joining industries established in Focal Points, as they feel unsafe due to poor roads and infrastructure. It has been also been also observed that at least 70 percent of the street lights in the focal point are not working.
Kular said that the focal points and industrial areas are the bread and butter of Punjab which generates huge revenue for the government in shape of GST, income tax, property tax, octroi etc so it is the first and foremost responsibility of the government to facilitate the industrialists with at least the basic infrastructure such as proper roads, proper sewerage, proper lighting. He further said that there is a huge potential for Ludhiana industry to grow provided the working atmosphere should be industry friendly.
Satnam Singh Makkar Propaganda Secretary FICO, Ajit Lakra Head FICO Textile Division and Manjeet Singh Matharoo General Secretary FICO Mega Machine Tool Cluster were among those present.