Ferozepur wins laurels on many fronts in education sector
The district earned the distinction to top the list among the 22 districts to distribute books to the students studying in the government and aided schools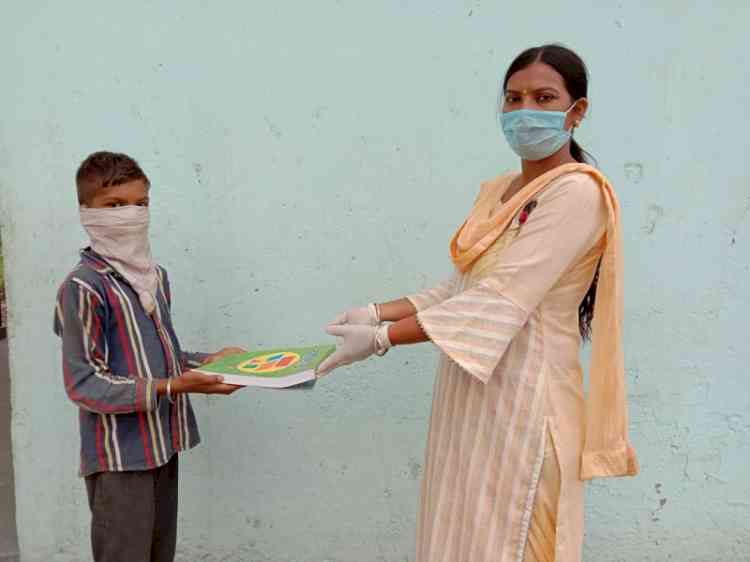 A teacher offering books to a student.
Ferozepur:  The border town Ferozepur has shone on many fronts in education sector, as the district earned the distinction to top the list among the 22 districts to distribute books to the students studying in the government and aided schools. The district also secured second place in enrolling the numbers of students from class 9th to 12th in the Covid times when the schools across the state have been shut since March 22. Earlier, Ferozepur had stolen the show registering third place in the plus two results announced earlier in July. 

The schools were given the tasks of distributing the books to the students during the ongoing pandemic. The school heads and the teachers not only ensured the safe delivery of books to the students, they also uploaded the records of the books on the E-Punjab portal of Punjab Education Department. The district officials of the department led by District Education Officer (DEO) Kulwinder Kaur and Deputy DEO Komal Arora made it sure that the schools faced no problem in distrusting and uploading the data. They roped in the services of the district MIS Wing to facilitate the process, resulting in finishing this arduous task of distributing and updating more than four lac books well before the other districts. 

Speaking on the occasion, DM English Gurwinder Singh, revealed the district emerged second in enrolling new students in this session. The credit of the rising numbers of enrolment can be traced to the option of English medium that the schools provide to the students. This is a big factor in attracting the students of private schools to government schools. 

Moreover, the number of students studying in plus two in the district are slated to get mobile phones, as the Punjab government has decided to distribute mobile phones to all the students enrolled in 12th class in the government schools. Earlier, only the girls belonging to SC/ST categories were to get mobile phones. 

While hailing the role of the teachers and the school heads, Deputy DEO Komal Arora said, "It's all due to proper coordination and cooperation of all the officials involved in the department that we not only fulfilled the assigned tasks but we won the applause of the higher authorities. I hope we will continue to rise higher".