Expressing gratitude towards HSI/India 
For providing feeding stray dogs of Panjab University during covid-19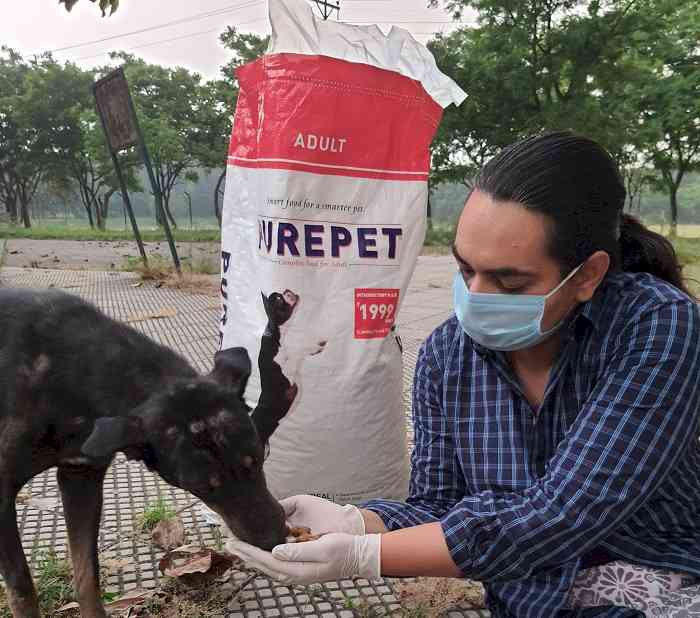 Chandigarh: Amidst the difficult times of COVID-19, when all humans were locked down in their houses and no-one was allowed to step out from their place.  At those times the stray animals particularly dogs had to face a tough time because most of them who were fed by the regular feeders, suddenly came to a halt. A similar situation had also hit the stray dogs of Panjab University campus, as almost all the hostelers went back to their native places. The residential area was taken care off quite well by the local residents but the dogs residing near departmental buildings situated in sector- 14 and particularly 25 were difficult to reach.
 
Keeping this in mind, the problem of feeding the dogs was well addressed by the security guards placed at these buildings at their own. This continued but the number of dogs was more than one hundred and a lot of food or dog feed was required to fulfill their everyday needs.
 
Hence, an organization called as Humane Society International/India (HSI/India) was contacted by NSS, Panjab University to support this cause in the crisis of Corona, said Gaurav Gaur, NSS, Program Officer.
 
Ms Swarnali Roy, Campaign Manager, North India was contacted and very graciously she accepted the request after talking to Ms. Alokparna Sengupta, Country Director of HSI/India. Since, that day this organization is supporting the dog feed for more than one hundred dogs from almost six weeks and is continuing till date, informed Navdeep Sharma, Program Coordinator, NSS. 
 
For coming forward and providing this unconditional support and wonderful service for these living beings the whole  NSS, Panjab University family will remain indebted to HSI/India, said Gaurav Gaur. 
Navdeep Sharma said that hopefully this organization will keep on supporting for this noble cause.