Experts aver about new normal of gender equality led by covid-19 at Amity University 
The panel discussion was moderated by Prof (Dr.) Alpana Kakkar, Dy. Dean of Students' Welfare, AUUP along with Dr. Shukla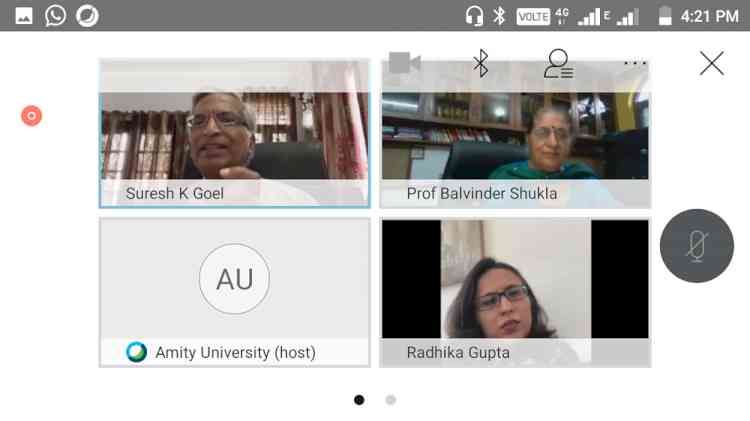 A gamut of experts from varied spheres gathered together to deliberate on "Will the Covid-19 crisis help us create a new normal of Gender Equality- in Global Context" at Amity University. The illustrious panel had Ms. Lakshmi Puri, Former Assistant Secretary-General at the United Nations, Former Deputy Executive Director of UN Women & Ambassador of India,

Commentator on National & International Affairs as the Chief Guest. The Guest of Honor Dr. Suresh Goel, Former Director General –ICCR, Former Ambassador; Ms. Radhika Gupta, MD & CEO- Edelweiss Asset Management Ltd.; Fr. V.M. Thomas, Educationist, Social Transformer Founder and Director -Don Bosco Institute, Don Bosco Skill Training Institute, Guwahati Former Chancellor – Assam Don Bosco University and Prof. Rajesh Chandwani, Chairman AHRD, Professor - IIM Ahmedabad.  

Prof. (Dr.) Balvinder Shukla, Vice Chancellor, Amity UniversityUttar Pradesh (AUUP) welcomed all the participants and said that the theme was very apt for the present times. She quoted the United Nation's 5th Sustainable Development Goal (SDG) that lays emphasis on gender equality. 

Panelists were asked to share their views on why gender equality is important during this pandemic and what policy level changes are required during the covid scenario on gender issues. 

Ms. Lakshmi Puri averred that gender equality was an extremely pertinent issue but often neglected. However, the young generation is capable of bringing a change in the thought and mindset against women. She added that this existential and multi-dimensional crisis with unprecedented challenges seemed to have deepened the gender equality divide but also given an opportunity to bridge this gap. She advocated the need to have government, businesses, civil society, men & women come together to bring the change. She called for realization of SDG 5 that talks of gender equality and also stressed on bringing multi-dimensional equality. Ms Puri called for economic empowerment of women along with targeted mainstream measures, scaled up investments to enable technological empowerment of women & girls and contribute to a new normal. She further laid emphasis on revamping health & medical infrastructure and making the 21st century education system gender responsive. She also stressed on the transformation in the normative cultural, social and legal norms and throwing away the patriarchal roles to bring about a change in the mindset. The chief guest stated the need for gender equality creation in the present times with the entire ecosystem ensuring the growth of women and girl child. She also talked about how for the country to be self dependent it's important to make its women self-dependent.  

Furthering the discussion, Dr. Suresh Goel talked about civilizational and cultural context on gender issues. He stated that while on one end there have been issues related to sexual harassment at work places, dowry deaths, on the other hand there have been examples of exemplary women leaders in the political and corporate world stating two ends of the spectrum. He averred that women have also been leaders in building family values and respect for women should be the first thing taught to the younger generation. He also shared how Goddess Durga, Saraswati and Lakshmi are the most worshipped mythological icons representing power and played the roles of influencers in the society. Dr. Goel questioned the negative outlook towards women in the society.  

Ms. Radhika Gupta averred that the one of the most transformative impact of covid has been in making work from home a reality and give opportunities to women who had to take a break in their career aspirations owing to various reasons. She added that work from home is the realistic & legitimate possibility of jobs in the coming times with women being its biggest beneficiary. She further stated that women have been multitasking and trying to balance family responsibilities along with office and the load of work has become disproportionate during covid times. She called for the realization towards increasing women participation in its workforce, formalizing work from home policies and leveraging the skills of partially skilled women for playing a crucial role while working from home. She added that this was the chance for the corporate world to look at improving the participation of women and provide gender equality. She also advised women not to seek work-life balance but have work-life harmony and for ask for opportunities.  
 
Fr. V.M. Thomas averred that women have been affected in the pandemic but the doors are not locked for them. He stressed on the need for sharing the responsibilities women have at home and also stated his fear regarding education of girls at home right now during the lockdown. He further said that there might be possibility of seeing an increase in dropout rates of girls owing to the pandemic especially in the remote areas. Fr. Thomas also talked about the behavioral changes in girls who are not able to get the required support in their education endeavors.  

Prof. Rajesh Chandwani stated that fear, love and anger are the emotional reactions to any crisis and fear has been the most overwhelming reaction in the current crisis. The fear of losing the job on one end and the fear of health have been overwhelming people. He shared that it's important for employers to assess these emotions especially fear during this time and women are the social fabricators that are capable of using power with sensibility. He further averred that having a diverse team leads to diverse ideas and also reduces the risks on one hand but also delays decision making and leads to conflict.  

The panel discussion was moderated by Prof (Dr.) Alpana Kakkar, Dy. Dean of Students' Welfare, AUUP along with Dr. Shukla and well-attended by thousands of students and faculty members across various social media platforms.