Exhibition- "Conscious Consumerism and Green Fashion: An Exhibition of Handcrafted Upcycled Products"
The event was inaugurated by Prof Meena Sharma, Dean Student Welfare (Women), Panjab University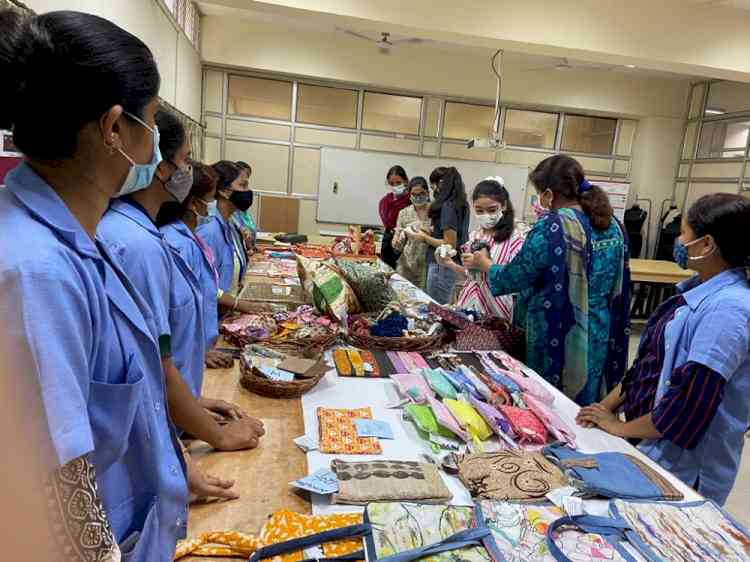 Chandigarh: Conscious Consumerism and Green Fashion, an exhibition of handcrafted UPCYCLED productswas organized by Panjab University Alumni Association, University Institute of Fashion Technology & Vocational Development and Centre for Human Rights and Duties, Panjab University, Chandigarh on July 28, 2021. The exhibition was organized under a project sanctioned by Panjab University Alumni Association to Dr Anu H. Gupta and Dr Namita Gupta on Conscious consumerism and Sustainable Fashion.
The event was inaugurated by Prof Meena Sharma, Dean Student Welfare (Women), Panjab University. She appreciated the project and stated that it is a timely step to promote understanding about the sustainable fashion among the faculty and students of Panjab University. Prof Anupama Sharma, Dean Alumni Association stated that more such initiative must be taken in Panjab University to promote sustainability. The products exhibited were: Face masks, Sanitary Pads, Scrunchies, Make-Up Pouches, Tote Bags, Fabric Potli Bags, Fabric Coasters, Cushion Covers, Laptop Bags, Sleep Mask, Baby Bibs, Tie Dye, Sling Bag, Fabric Hairbands and Kitchen Napkins.
 
Dr Anu H.Gupta and Dr Namita Gupta stated that the purpose of the project was to generate awareness about the excess being created, purchased and disposed off. For the same, a pre loved clothing collection drive was carried out in the hostels of Panjab University in the months of March-May 2021. Residents of the hostels generously donated their unused clothes during the drive. 10 women from Nayagaon (Punjab) were identified for the training whohad basic training in stitching. These women were trained in the workshop of the UIFT&VD in the Months of April-June 2021 to create products through the recycling of old clothing. The exhibition was organized to market the products created from these old clothing. Keeping in view of the Covid situation all SOPs were followed.The faculty members of various Departments of Panjab University not only appreciated the products created but also bought these products.
 
The trained ladies who took part in this show were overjoyed since they were able to sell items worth more than Rs 5000/- in just three hours. Visitors commented that this exhibition and effort is really unique and excellent move to make people not only aware, but also to show them so many items that can be produced out of discarded clothing. Many visitors also appreciated the display, packaging of the products as well as beautiful label that makes it as par with the products available in the market.