'Euphoria-2020' conducted by Lyallpur Khalsa College
It was an impressive mega event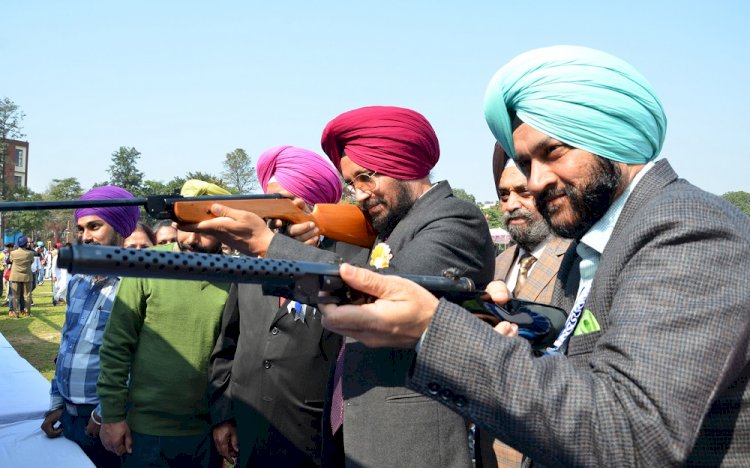 A photograph related to 'Euphoria-2020' held at Khalsa College, Jalandhar on Saturday. (See more photographs in Gallery section of this news web portal)
Jalandhar: 'Euphoria-2020', an impressive mega event was successfully conducted by Lyallpur Khalsa College, Jalandhar under the supervision of Principal Dr. Gurpinder Singh Samra on Saturday. 
This vivacious annual flagship program of the college was graced by Dr. Lakhwinder Singh Gill, Deputy Director, DPI (Colleges). He was duly welcomed to the college by Principal Dr. Gurpinder Singh Samra and Mr. Jaspal Singh Waraich, Joint Secretary Governing Council. Folk Singing performances on this colorful occasion were presented by student artists of the college. Chief Guest Mr. Lakhwinder Singh Gill expressed his immense delight on the exemplar achievements put forth by Lyallpur Khalsa College and also lauded the leadership of College Principal Dr. Gurpinder Singh Samra for initiating an event which has subsequently been met with a successful response by the staff and students alike. He also lauded the efforts of the institution for ensuring an all round development of its students whilst also stressing the importance of such events to be constantly run parallel to the academics. On this occasion, various on-the-spot Lucky Draw prizes for the audiences, including 40 and 32 inch LED TVs, Laptop, Washing Machine and other valuable products as the top prizes were put forth by Dr. Gurpinder Singh Samra and Prof. Jasreen Kaur, Dean Academic Affairs. 
Speaking on the occasion, Principal Dr. Gurpinder Singh Samra expressed his happiness over the immense success of the program which was based on the exuberant participation by the students and staff of the college subsequently making it an even better edition as compared to the previous one. Various Departments of the college installed their stalls during the program displaying colors from all shades of human life and culture whilst the popular game of Tambola, Food Stalls and Fun Games were duly enjoyed by one and all. 
Dr Samra delivered the vote of thanks for everyone concerned, on the magnificent success of the mega event. The display efforts of Commerce, Computer Science & IT and Zoology Departments were given the podium recognition to conclude the program. Stage on this occasion was managed by Prof. Gopal Singh Buttar and Dr. Surinderpal Mand.