Ethereal picture of Darshani Deori released at RGC
It was captured during the lockdown period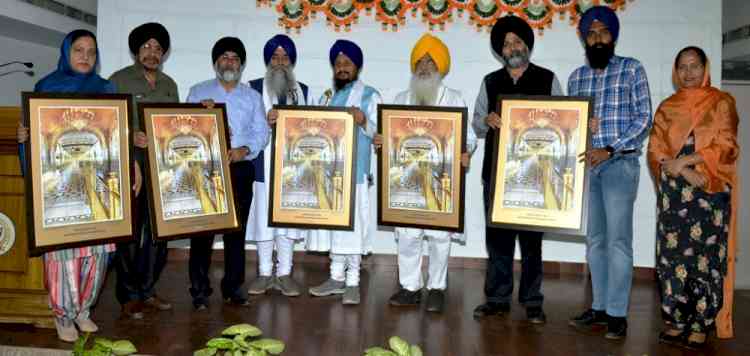 Ludhiana: Ludhiana based versatile personality, a business tycoon, a photographer and President of Ramgarhia Educational Council  S. Ranjodh Singh had ethereal picture of Darshani Deodi of Shri Harmandir Sahib, Amritsar released at Ramgarhia Girls College, Ludhiana. The unique thing about the picture is that it was captured during the lockdown period due to Corona. Singh Sahib Giani Harpreet Singh, Jathedar Shri Akal Takht, Shri Harmandir Sahib Amritsar and Singh Sahib Giani Raghbir Singh, Jathedar, Shri Kesgarh Sahib, Shri Anandpur Sahib released the panoramic picture of The Darshani Deodi. 

The function was organized at Mata Tripta Ji Hall and Principal Dr. Inderjit Kaur welcomed the guests and congratulated S. Ranjodh Singh for having the beautiful picture released by such eminent personalities of Sikh Panth.  She added that It is indeed a proud moment for all present to witness this precious moment. 

S. Ranjodh Singh while sharing his experience of capturing this picture said that this era of Corona forced all believers to stay at home and this otherwise crowded gallery is without the devotees. This picture reflects the faith that people had and will have for centuries on this pilgrimage of Sikhism. Giani Harpreet Singh asserted that this picture stands not only for artistic beauty but stands for the faith that people have, who visit to Shri Darbar Sahib,Amritsar through this Darshani Deodi. Giani Raghbir Singh praised S. Ranjodh Singh by saying that this beautiful image not only contains all the details of the beauty of Darbar Sahib but also provides an opportunity to all those who could not reach there due to any reason. 

S. Gurcharan Singh Lottey, Secretary, Ramgarhia Educational Council also appreciated the efforts of S. Ranjodh Singh and considered the picture to have captured a historic moment. A powerpoint presentation was also displayed on this occasion comprising of wonderful pics of Shri Darbar Sahib, Amritsar.   

S. Pritpal Singh Pali, President, Gurudwara Dukh Nivaran Ludhiana and Gurmeet Singh Kular, President FICO were also present. 

S. Gurcharan Singh Lottey thanked all present, and the students who witnessed the function online.