Environmental health critical for economic and human growth 
Aver experts during 'World Environment Health Day 2020' Celebrations at Amity University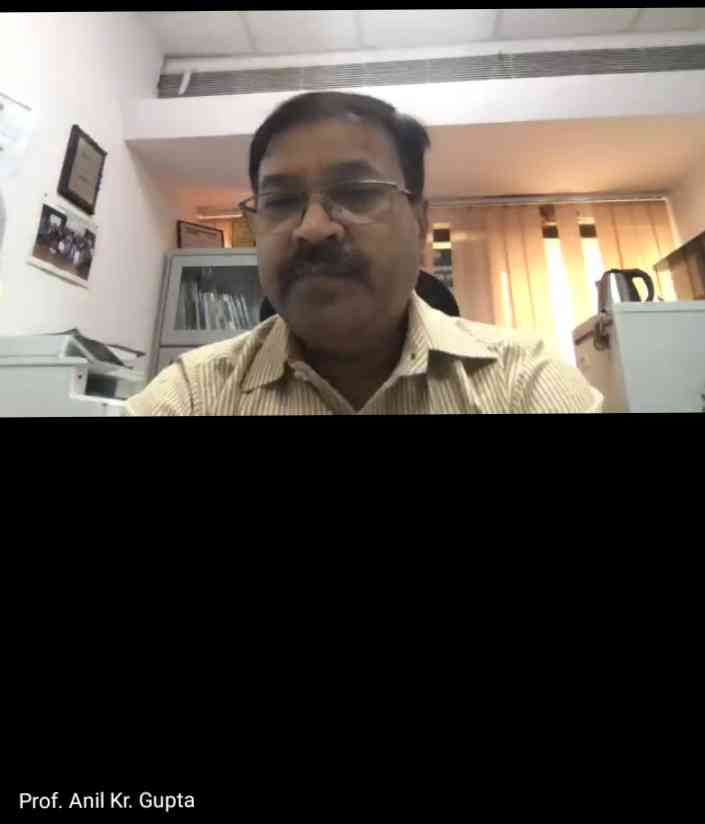 Prof. Anil Kr. Gupta.
As empirical evidence on the links between environmental challenges and COVID-19 is still emerging, a webinar was organized on "World Environment Health Day - Environmental Health, A Key Public Health Intervention In Disease Pandemic Prevention" to sensitize students, faculty and public about importance of Environmental safety and public health. A galaxy of experts shared detailed insights on various aspects of environmental health and mapped the way ahead for a healthier environmental.   
 
Dr. Ashok K Chauhan, Founder President, Amity Group of Institutions averred that the discussions and deliberations by the industry experts have showed the way ahead to deal with this apt subject that holds immense significance. He added that the country should be ready for Biodefence as Bio-war and cyber wars are the upcoming realities that need to be addressed.    
 
Prof (Dr.) Tanu Jindal, Group Additional Pro Vice Chancellor (R&D) & Director, Amity Institute of Environmental Sciences, Amity Institute of Environmental Toxicology, Safety and Management welcomed all the speakers and averred that moving towards sustainability is a social and global challenge. She stressed that it would take efforts from local and national governments, international cooperation, as tools for academics and researchers, to help put in place the best practices and knowledge to encourage these essential changes. She stated that advantages to going green, developing new technologies and redesigning systems in a flexible and reversible manner to benefit the environment & public health is the need of the hour. She called for thinking constructively towards health of the environment in all sectors addressing COVID-19 impacts.  
 
Taking the discussions further, Mr. C. Achalender Reddy, IFS (R), Director, Centre for Innovation in public systems, Administrative Staff College of India, Hyderabad shared his views on 'Challenges in Promoting World Environmental Health'. He stated that humans previously found solutions in nature and lived accordingly & also suffered less from infectious diseases. He stressed on how climate change is the biggest threat to biodiversity further impacting public health and called for Preservation of Urban Biodiversity as it improves the quality of life. He called for following the principles of Prevent, Detect and Respond to tackle pandemics in the future.   
Tapping the pulse of the present times, Dr. Prabir G. Dastidar, Scientist G/Adviser, Ministry of Earth Sciences (MoES) shared his views on Big Data Analytics, Mapping of Global Data vis-à-vis Public Health. He stated that you can't manage what you don't measure leading to the focus on big data analytics to be used for different purposes, building stories with bits & pieces. In the context of the corona pandemic he shared that the global pandemic can be visualised in various ways using data analytics to make policy decisions locally and globally.   
Ms. Urmi Goswami, Special Correspondent, Economic Times stated that humans have just realised with this pandemic the importance of staying healthy and its importance to understand that an unhealthy planet will lead to unhealthy human beings. With conversations being forced owing to diverse economic impact of the pandemic, building better and healthier individual and planet health is being ensued. Importance of nature and the services ecosystem provides are gaining more importance as drivers of destruction are human activities including urbanization, industrialization & growing population. She stressed on the need to slow down, change our approach, behaviour and give the natural resources their due importance. Ms. Goswami called for looking at natural resources as an asset to make its best use at the national level and look at ways to bring change at the individual level to contribute towards building a sustainable environment.   
 
Ms. Vibha Varshey, Associate Editor - CSE India shared insights on 'Mysterious Diseases Failure of Environmental Health Management'. She stated that diseases linked to environmental degradation include both communicable and non-communicable diseases including Covid-19 and added that 60% of the recent epidemics were zoonotic, of which 72% originated in wildlife. She also talked about several mysterious diseases having surfaced in the country in the past three years that are yet to be identified along with multiple examples of long-standing mystery diseases having been discovered in the past as well. She specified that Zoonotic diseases are spreading fast in the country and in the absence of effective surveillance they can take the shape of pandemic proportions further stressing on the need for strengthening the public health system.   
 
Prof. Anil Kr. Gupta, Professor of Policy-& Strategies, DRR & Sustainability, and Head of the Division, Programme Director, Centre for Excellence on Climate Resilience, NIDM stated that environment health is of great significance and these issues haven't received much impetus as they deserve. He averred that there are very few institutions in the country giving due importance to environmental health and how NIDM is supporting in developing a National Crisis Plan to address the issue of Water Contamination. He shared insights on 'Lessons for Resilience and Sustainability for Business and Economic Development'. /(24/09/2020)