Enactus PU team and DIR distributes face masks and ration kits to the impoverished
The team seems to be optimistic and confident about new challenge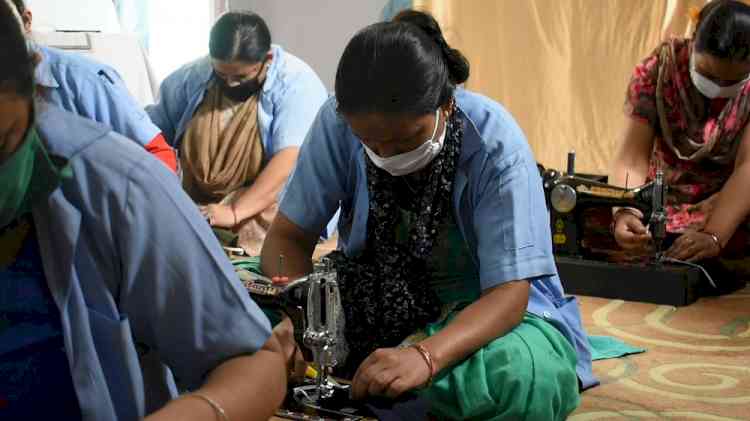 Chandigarh: Enactus SSBUICET, Panjab University team along with Developing Indigenous Resources- India (DIR) distributed reusable and washable face masks and ration kits to the needy people in the village of Nayagaon. Also in Maloya village, face masks were distributed to the potter community working under project Dhra of Enactus team. The team is successfully running two projects - Dhra and Uday. Project Dhra aims to enhance the lives of potters by promoting the art of pottery as well as eradicating the use of plastic ware. Project Uday works on similar lines by eliminating the use of plastic bags by bringing up cloth bags into function. Both the projects were started with an aim to curb plastic menace, conveyed Prof. Seema Kapoor, Faculty Advisor, Enactus team.
 
DIR in collaboration with Enactus team has been working in Nayagaon Punjab for the upliftment and welfare of the underprivileged families particularly women to promote women empowerment. These Basti women, working under project Uday of Enactus team were given cloth to make reusable masks to earn some livelihood especially during the lockdown period when their husbands had no livelihood. During these rough times of uncertainty, the two bodies came together to work and to help them. The ration kits were distributed to extremely poor needy families who are dependent on day to day wages to earn the livelihood, identified by health promoters i.e medical team of DIR.
 
With COVID-19 being a major threat to health and economy globally, the team realized that it was not just the government implementing rules for safety but we also must take steps to maintain social distance and personal protection. It was a great opportunity for the community to use the up cycled material to make these non-surgical face masks for general use. The use of face masks in social spaces is therefore likely to play a vital role in mitigating disease spread. These masks are hand washable and comfortable to wear.
 
A total number of 128 grocery kits including 5 kg atta, 3 kg rice, 1 kg daal, 1 kg sugar, 100 gms haldi, 100 gms mirchi powder, 250 gms tea leaves & lifebuoy soap were distributed along with one bottle of supplements with 180 tablets. And a total of 250 number of stitched face masks were distributed in Nayagaon and Maloya, told Harleen Singh, President, Enactus team. 
 
Dr. Asha Katoch, CEO, DIR-India conveyed that she is extremely grateful to Enactus team who is deeply involved in this mission of social cause. The team makes us all proud as the future and growth of India is only possible with dedication of such young blood.
 
Harleen Singh informed that DIR will soon start selling these masks in the local market at affordable prices to provide a stable income to the ladies working under Project Uday. The team seems to be optimistic and confident about this new challenge.
 
BRIEF 
PU Results
It is for the information of the general public and students of Panjab University Teaching Departments/Colleges in particular that result of the following examinations have been declared:-
1.      Post Graduate Diploma in Disaster Management and Security 1st Sem. Dec. 2019.
2.      B. Pharmacy 7th Sem. Dec. 2019. 
The students are advised to see their result in their respective Departments/ Colleges/ University website.