E-learning series by English Department PU
The write time was a five-day long e-learning series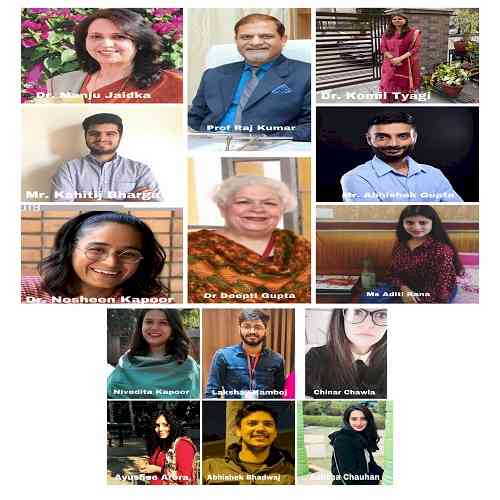 Chandigarh: The Write Time was a five-day long e-Learning series organized by the Department of English and Cultural Studies, Panjab University, from May 8-12, 2020. The initiative attempted to cover the different avenues available to aspiring writers by taking up diverse writing forms, informed Prof Deepti Gupta, Chairperson. The resource persons for the series included professors, retired and in-service, and some of the best young minds in their respective fields. The equally eclectic group of 504 participants included students, research scholars and teachers from educational institutions spread across regions,she informed.
The first day of the series focussed on New Media Writing with Mr Kshitij Bhargava at the helm of it. He discussed the job opportunities available in this niche field and the significant rise of job opportunities in the post-Covid-19 times. Emphasising the importance of audience he delineated assorted methods of keeping it engaged by following certain rules about the vocabulary, Search Engine Optimisation (SEO) and others. His programme pivoted around the journalistic aspect of new media and ended by talking about the scope of new writing forms like script writing and social media writing.
Dr. Manju Jaidka's lecture on Creative Writing was the subject of the second day of the series. A retired professor from the Department of English and Cultural Studies, Panjab University, Dr. Jaidka's locution left the audience wanting for more by the end of the short session. The lucid and concise talk discussed the whys, whats and hows of creative writing. Her immense teaching experience was evident in her recourse to anecdotes, examples and quotes that made the session interesting as well as educative for the participants.
The subject matter for the third day of the series was Academic Writing under the able hands of Dr. Komil Tyagi, a senior assistant professor at MCMDAV College for Women, Chandigarh. Starting from the basics, she went on to talk about the characteristics, language/vocabulary and argument formulation in academic writing. Her lecture was peppered with constant reference to the available online websites and software to assist in academic writing.
The fourth day of the series concentrated on feature writing for magazines and was led by Ms. Aditi Rana. She talked about the fundamentals of feature writing and factors to be kept in mind while writing. The fifth and final day of the series was on poetry writing under the gifted hands of Dr. Nosheen Kapoor and Mr. Abhishek Gupta. They talked over the issues generally faced by the budding poets and ways of overcoming them.
The encouraging response received from the participants motivated the organising team to schedule a query solving session with each of the speakers at the end of the series. The constant support from the Vice Chancellor, university department, speakers and participants helped make this series a success.