e-FDP on "The Art and Science of Research Collaborations" organized by Amity University with La Trobe University 
Amity University also organized the Orientation Programme for its Students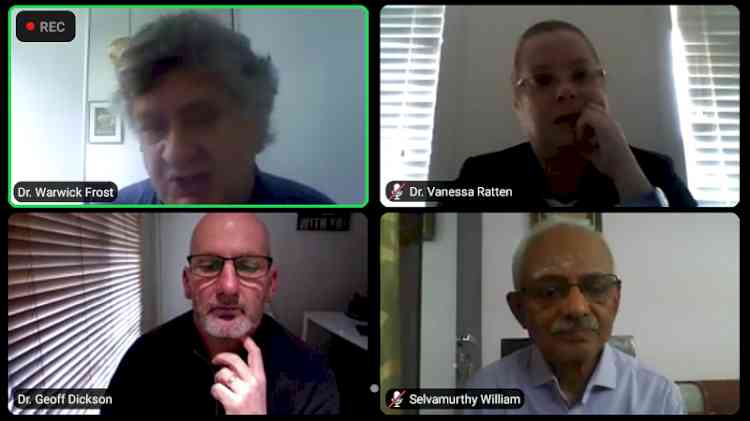 Reinvigorating its focus on research and leveraging its effectiveness through International collaborations, an e-FDP on "The Art and Science of Research Collaborations" was organized by Amity University with La Trobe University, Melbourne, Australia. Well-known researchers from La Trobe University, shared deep insights and experiences of their research initiatives and works to enlighten young researchers on their journey ahead.  

Dr. W. Selvamurthy, DG, ADSI & President, ASTIF welcomed the gathering and the speakers and shared how Amity University is a research-driven university and always looking to strengthen its research initiatives. He also added that researchers at Amity were given opportunities to collaborate across borders and come up with research that benefits the society.   

Dr. Warwick Frost, Professor of Management Sports & Tourism, La Trobe University shared the four P's of Publishing including Passion and the need to do research with passion. He averred that his passion to drive research outcomes to people makes him pursue research. Second P stands for Portfolio and how good researchers will publish in different formats to have a varied portfolio. He further added that the third P is Pipeline with the personal resources not just focused on one project but to keep working on different ideas. The final P is Partnerships and how working with other people is more productive. He also advised students on how to pick partners to work with and rely on trust, network with people having similar interests and visit various conferences and seminars to enhance their learning. He also suggested that one should have a strength or benefit to bring to a partnership.  

Dr. Geoff Dickson, Director of Research Partnerships, La Trobe Business School, La Trobe University talked about digital minimalism and deep work. He averred that he often tells his Ph.D. students that they think that they have too much time and even if there's time, attention is scarce and fragile. He added that social media is high jacking too much of our time, causing distractions and affecting our concentration leading to be a need to be digital minimalist. He stated that using social media is not a good way to relax and suggested digital minimalism practices including spending time alone to be a good researcher. He further suggested taking long walks, leaving the phone at home and follow consolidated texting/emails for better time management and improving concentration. He called for doing deep work that involves the ability to focus without distraction on a cognitively demanding task and have a dedicated space for work without disturbances. He also suggested deep work rituals including keeping a scoreboard and not break the chain of maintaining a calendar of working dedicatedly; quit social media; be rhythmic by committing to a time every day. He further shared his views on research productivity and stated the ability to organize oneself and share the work will aid in increasing the productivity. Dr. Dickson also emphasized on the importance of follow-up correspondence or doing some basic research or connecting with potential collaborators before a conference or meeting. He averred that research reputation makes a lot of difference and can be made effective by following digital minimalism and deep work.  

Dr. Vanessa Rattan, Associate Professor, Entrepreneurship & Innovation, La Trobe University shared insights on how to maintain and acquire research collaborators & follow frugal innovation. She suggested students to become a member of professional organizations nationally and internationally to look at different people and collaborate. She called for looking at what one can bring to the table and then look at collaborations and how innovations can evolve. She stated that research collaborations require one to be patient and understand other people's objectives and timeframes. She laid emphasis on the importance of smart innovation, affordable technology, and social entrepreneurship.  

The experts also shared insights on various queries shared by students on various aspects of how to face rejection; whether to go for a publishing a paper or special issues and how to decide between quality of an article or paper against the quantity of journals.  

Amity University also organized the Orientation Programme for its Students of Undergraduate (UG) and Postgraduate (PG) Programmes starting with a Havan ceremony, marking the beginning of the new Academic Session. Dr. Balvinder Shukla, Vice Chancellor, Amity University stated that it is the tradition of Amity to seek blessings of almighty before commencing any auspicious activity at the campus and welcomed the students as they began their academic journey.