DPI Deputy Director Dr. Ashwani Bhalla visited Waste Management Park at HMV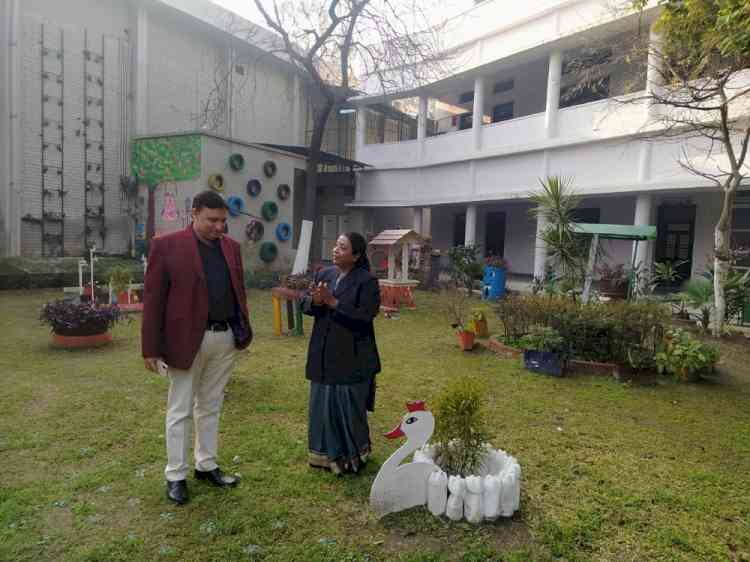 Jalandhar, February 14, 2022: Hans Raj Mahila Maha Vidyalaya, Jalandhar is known for its innovation. An example of such innovations in Eco Park of HMV. This Eco Park is made up of all the waste material which are used by the students of Design, Fine Arts and Science. They maintained this Eco Park with great efforts. In this Eco-Park, waste colour buckets, old washbasins, old materials of washrooms, tiles, bottles, pots have been used. The students have converted all the waste material into a beautiful park. This park is worth watching and the hard work of students is clearly depicted from it. 
Dr. Ashwani Bhalla, Deputy Director DPI appreciated this endeavour and said that colleges should also maintain such parks in their campus. 
Principal Prof. Dr. (Mrs.) Ajay Sareen told that HMV has been declared as District Green Champion. HMV also been declared as Model Institution under Swachh Bharat Mission Urban. In future also, HMV will continue its efforts towards cleanliness and environment. 
On this occasion, Dean Academics Dr. Seema Marwaha, IQAC Coordinator Dr. Ashmeen Kaur, Dean Innovation and Research Dr. Anjana Bhatia were also present.