Documentary film titled, "Prayer Of Protection" depicting historic Gurudwara Bhabour Sahib, Nangal, released by Padma Shri Dr Surjit Patar 
This documentary film has been made by Punjab Lawyer Harpreet Sandhu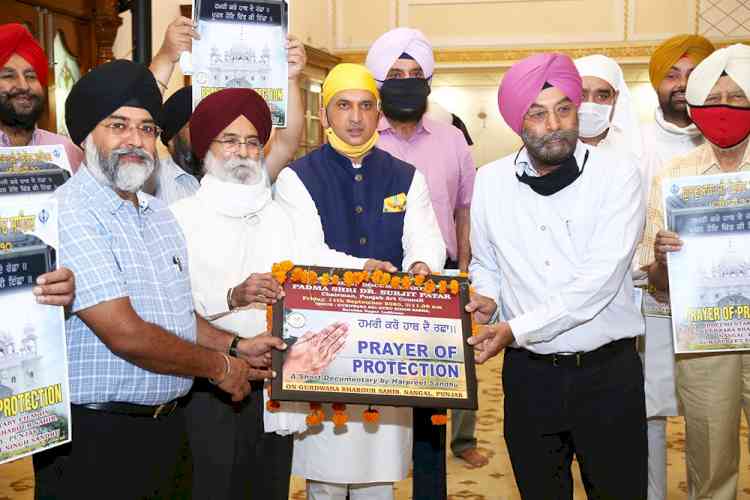 Padam Shri Surjit Patar and GLADA Chief Ludhiana Parminder Gill, IAS releasing the Documentary Film, "Prayer of Protection" made by High Court Lawyer Harpreet Sandhu in Ludhiana.
Ludhiana: World premiere of the Documentary Film titled, "Prayer of Protection" made by City Lawyer Harpreet Sandhu, depicting Historic Gurudwara Bhabour Sahib, Nangal, Punjab was held on Friday at Gurudwara Sri Guru Singh Sabha, Sarabha Nagar, Ludhiana. Eminent personalities of Ludhiana i.e. Padma Shri Dr. Surjit Patar, Parminder Gill,IAS, Glada Chief Ludhiana, Yurinder Singh Hayer, IPS (IG Police), Rupinder Singh (SSP Vigilance Bureau, Ludhiana), Prof. Anurag Singh, Ranjodh Singh,  Sonu Nilibar, Iqbal Singh (Jt. Director Prosecution, Punjab), T S Sandhu , estate officer retd,Gurpreet Singh Gill (Deputy District Attorney, Ludhiana), Dr. Jagtar Dhiman (Registrar CT University, Ludhiana) and Jaspal Singh Thukral (President) and Committee Members of Gurudwara Sri Guru Singh Sabha, released the Documentary film at a very impressive event held at Gurudwara Sri Guru Singh Sabha, Sarabha Nagar, Ludhiana and previewed  the film .
Dr. Surjit Patar while releasing the documentary film said this Documentary is an impressive work, showcasing the significance of the Gurudwara Bhabour Sahib and the Hymns of Prayer Chaupai Sahib and appreciated the dedicated efforts of Advocate Harpreet Sandhu for making such an excellent documentary film which will definitely promote the history of this Historic Gurudwara within the community especially amongst the younger generation. and stated that the theme of this documentary film "Prayer of Protection" is specially taken, seeking protection from the Almighty, by performing prayer for the safety of entire humanity from Covid Pandemic.This Documentary Film, depicts the Historical significance of Gurudwara Bhabour Sahib in Nangal where Guru Gobind Singh Ji compiled, "Chaupai Sahib" sitting on the banks of River Sutlej, during Guru Ji's stay at this pious place between year 1700-01.
Harpreet Sandhu shot this Documentary during lockdown in May 2020 and tried to portray the original nature surroundings in and around this pious place, with an aim to promote the importance of this Historic Gurudwara, where Guru Gobind Singh compiled, "Chaupai Sahib"
Parminder Gill, IAS GLADA Chief Ludhiana also admired the beautiful concept in form of short Documentary by Advocate Harpreet Sandhu and urged everyone, that, they must preview the Documentary related to this Historic Gurudwara Sahib. 
Director of Documentary Film, Advocate Harpreet Sandhu said that I thank Almighty for giving me strength in accomplishing this Documentary. He further stated that his passion for photography of Historical Gurudwaras and Sikh symbols encouraged him to utilize his time during lockdown, with a sole aim to project this historic Gurudwara Bhabour Sahib worldwide.