Doaba College organises panel discussion on 'Punjabi media and culture'
Students spoke about Punjabi language, media and culture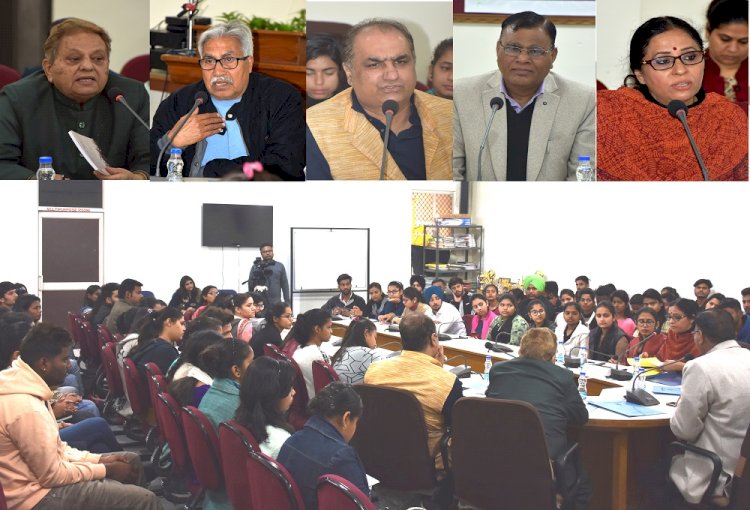 Jalandhar:  P G department of Journalism and Mass Communication of Doaba College organized a panel discussion on 'Punjabi media and culture'. Panellist of the discussion were Suresh Seth, veteran writer and journalist, Deepak Bali, eminent personality of Punjabi music industry and promoter of Punjabi language and Harjeet Singh, eminent Punjabi film maker. 
Principal Dr.Naresh Kumar Dhiman and Head JMC Dr. Simran Sidhu welcomed the panellists.
The discussion focused on various issues related to Punjabi media and culture. Harjeet Singh said "In today's time we need that cinema which makes people question, think and ponder". He further added that a balance is required between commercial cinema and art cinema.
Deepak Bali motivated youngsters to choose right path. He said "There is a need to promote and appreciate that content which is positive, then only it can flourish and influence audience".   
Suresh Seth said that "a writer never go out of form. The eminent writers of Punjab, Amrita Pritam and Shiv Kumar Batalvi maintaining the elegance, decency of Punjabi language has contributed substantially contributed to Punjabi literature which is missing in contemporary vernacular literature".
Meanwhile, various students opined their opinion regarding Punjabi language, media and culture. 
Dr. Naresh Kumar Dhiman said "It is duty of audience to sing and select those lyrics which are not provoking violence and vulgarity".
Head JMC Dr. Simran Sidhu presented vote of thanks. At last principal and head JMC honoured the esteemed panellists.
In discussion, Priya Chopra, Harman, Gurpreet Sidhu, Supriya, Chandni Mehta, Vibha, Deepak Sharma and Irfaan Lone were present.