Diwali Mela by self-help groups begin at Mini Secretariat Ludhiana 
Self-Help Groups will sell their hand-made products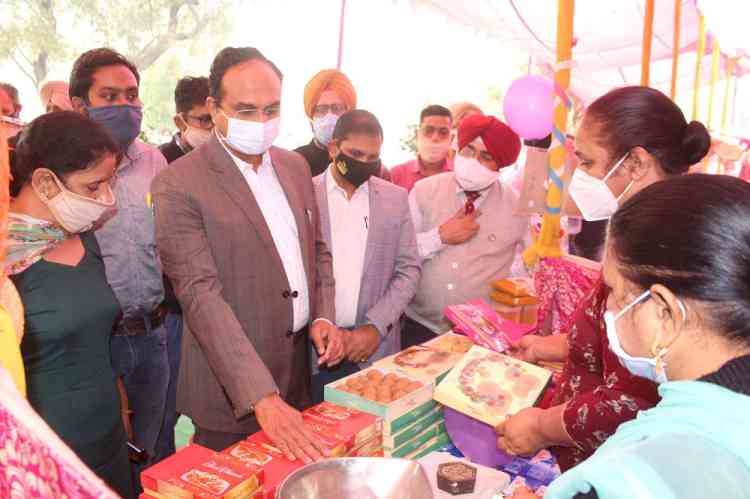 Ludhiana: In a bid to promote Rural Self Help Groups, the District Administration has organised a five days-long Diwali Mela, also known as Pendu Kirti Bazaar at Mini Secretariat Ludhiana from Monday, where these self-help groups would be selling hand-made products related to Diwali.

The Diwali Mela was inaugurated by Deputy Commissioner (DC) Ludhiana Varinder Kumar Sharma. Additional Deputy Commissioner (ADC Development) Sandeep Kumar was also present on the occasion.

Divulging details, Deputy Commissioner said that in the Diwali Mela, which will go on till November 13, Self-Help Groups will sell their hand-made products including lamps, candles, kurtas, masks, soft toys, Punjabi Jutti, honey, organic pulses, spices, warm clothes, khoya pini, besan laddu, saag etc. He said that under PSLRM scheme as many as 20 self-help groups from different villages of Block Ludhiana-1, Ludhiana-2, Sidhwa Bet and Dehlon in Ludhiana district set up stalls in this Bazar. 

Deputy Commissioner Varinder Kumar Sharma said that a vendor of lamps, candles and decorative items made by the school children in slum areas with the help of vocational funds provided by the office was also set up under the NCLP scheme.
He said that apart from this, a stall exhibiting Kurtas, Masks, Capris, Warmer etc made by trainees of the Punjab Government's Skill Development Centre was also installed.

Meanwhile, the tent and carry bags were provided by the ICICI Bank under Corporate Social Responsibility (CSR) funds. Avtar Singh, Assistant Project Officer (M), the office of ADC (D), besides others were also present on the occasion.