District Administration identifies 45 primary contacts of corona positive patient in Village Vada Bhai ka
The joint team of health, police and district administration cover 70 houses under the door to door survey, quarantined all close contacts of positive patient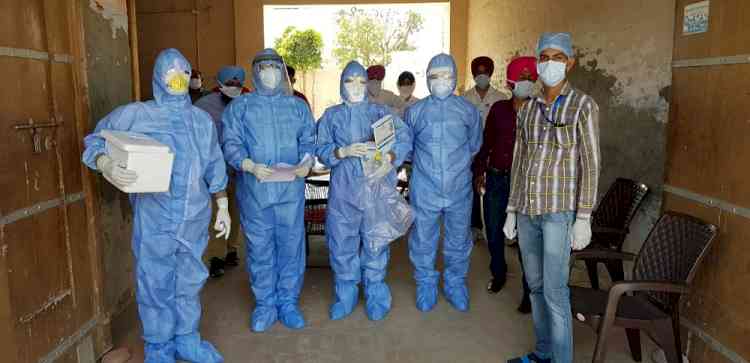 Ferozepur: Executing an intensive door to door survey in village Vada Bhai ka to contain the further spread of Corona Virus, the district administration has identified 45 primary contacts of the positive COVID-19 patient and placed them under home quarantine.
 
Divulging more, Deputy Commissioner Ferozepur Mr. Kulwant Singh said that a mammoth exercise was launched under the supervision of SDM Mr. Amit Gupta to identify the primary and secondary contacts of the positive case. He said that the joint teams of health department and district administration has so far covered 70 houses of the village and succeeded in tracing 45 primary contacts besides placing all of them under home quarantine. Notably, the COVID-10 infected person of village Vada Bhai Ka was being gunman of the infected police official of Ludhiana, was listed among primary contacts.
 
The deputy commissioner further added that the swab samples of all the 45 persons have been taken by the health officials, which has been sent to the VDRL lab for COVID-19 testing. Mr. Kulwant Singh said a policeman of Village Vade Bhai ka posted in Ludhiana district was found Corona positive and was shifted to the isolation ward of civil hospital Ferozepur. Mr. Kulwant Singh said that the patient is healthy as no symptoms of COVID-19 were surfaced in him so far.
 
Sub Divisional Magistrate Ferozepur Mr. Amit Gupta said that the district administration has sealed the village and initiated house to house survey adding he said that a total of 70 houses were covered in the survey and 45 primary contacts were traced so far. Mr. Gupta further added that on the directive of Deputy Commissioner Ferozepur Mr. Kulwant Singh joint teams of district administration, health department and police department are keeping a close tab over the situation and the deputy commissioner personally overseeing the execution of containment plan. He said that the teams would be thoroughly sanitizing each house in the village to ensure that no one would fall prey to this deadly virus.