Deputy Commissioner Varinder Kumar Sharma re-launches Verka's Turmeric Milk 
Verka had come out with this nutritious drink by using unique haldi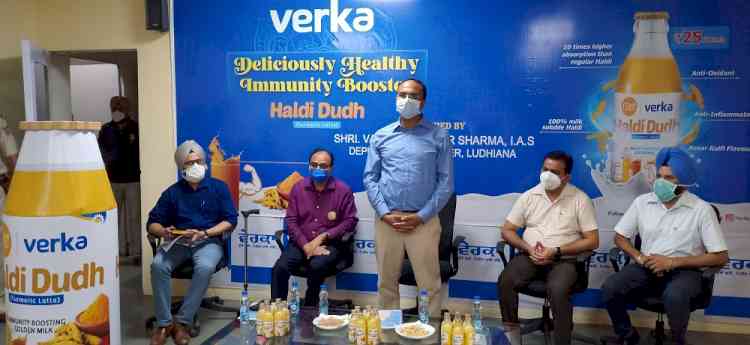 Ludhiana: In order to boost peoples' immunity amid COVID-19 pandemic, Deputy Commissioner Varinder Kumar Sharma on Monday, relaunched the Verka's 'Haldi Dudh' at district level here at Verka Ludhiana Dairy. 

While launching the product, which will be available at Verka outlets across district, the Deputy Commissioner said that this nutritious milk will become a preferred drink to further strengthen the immunity of people especially in the fight against coronavirus.

Describing the Haldi Dudh (turmeric milk), an immunity booster, Varinder Kumar Sharma elaborated that the Verka had come out with this nutritious drink by using unique haldi, which was developed and patented by the Department of Biotechnology, Punjabi University, Patiala. This drink gives higher absorption for the human body as compared to normal turmeric, he said.
Civil Surgeon Dr Rajesh Kumar Bagga was also present on the occasion.

General Manager of Verka Ludhiana Dairy Raj Kumar, along with his team members, apprised that Verka Haldi Milk was made of a special type of turmeric, which contains curcumin, non-curcumin and more absorption power as compared to normal Haldi Milk. Compared to other fresh beverages, Haldi Milk has always been known for its Antibacterial, Antiviral, Antioxidant and Antifungal properties which boost the immune system, said Raj Kumar adding that this product has the taste of kesar kulfi which is cherished by children. The turmeric milk does not have pungent smell as the nutritional product has the medicinal properties of turmeric, which is a natural herb and is known for its immunity. 

Meanwhile, Raj Kumar also requested Deputy Commissioner include Haldi milk in diet at Civil Hospital and hospitals at Sub Division level too. The costof haldi milk is Rs 25 for 200 ml.