Deputy Commissioner Ludhiana acknowledged pictorial work and unveiled portrait depicting Sunrise of Punjab 2023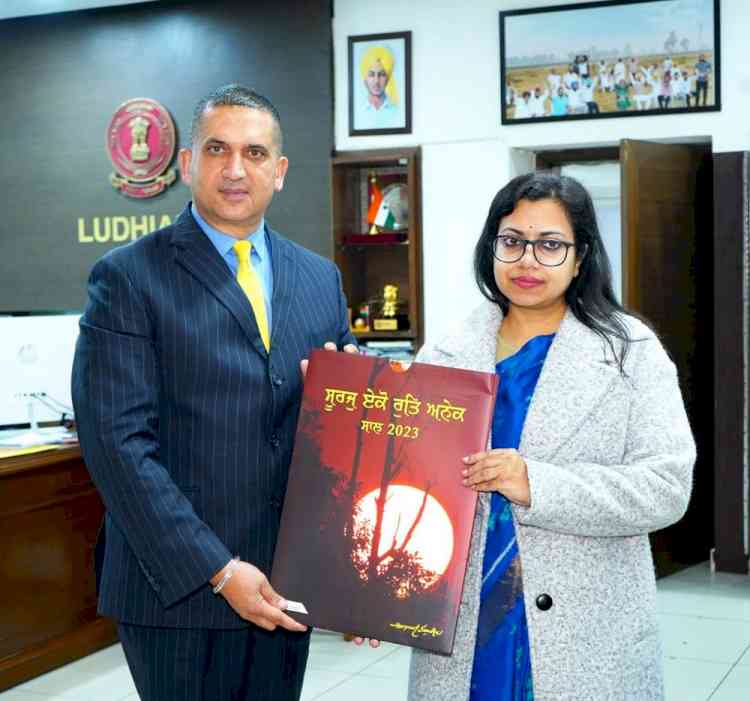 Photograph taken during the presentation of Pictorial work to Deputy Commissioner Ludhiana attached.


Ludhiana, January 24, 2023: Deputy Commissioner Ludhiana Surabhi Malik, today acknowledged the Pictorial work depicting Sunrise of Punjab 2023 "ਸੂਰਜੁ ਏਕੋ ਰੁਤਿ ਅਨੇਕ" compiled by Punjab's eminent Lawyer, Author, Environmentalist and Nature Artist Harpreet Sandhu giving a befitting message for humanity that Sun is the essence of life on Mother Earth, as all the seconds, minutes, hours, days, week day's months and seasons originate from one Sun which symbolizes a new dawn, a new ray of hope, warmth and a bright new day to start a new page of life every day which will motivate people of Ludhiana to rededicate themselves for preservation of nature. 
Nature Artist Harpreet Sandhu also presented mesmerizing portrait of National Bird Peacock symbolizing "Rangla Punjab" portraying Peacock forming bustle of satin with its feathers captured through his camera lens in the forest area of Punjab Agricultural University, Ludhiana. 
DC Ludhiana Surabhi Malik, congratulated Nature Artist Harpreet Sandhu for his innovative thought towards highlighting Nature Locations of Punjab within citizens of Ludhiana