DC Surabhi Malik exhorts youth to spread peace, love & harmony
Humanity greater than any religion: CP Mandeep Singh Sidhu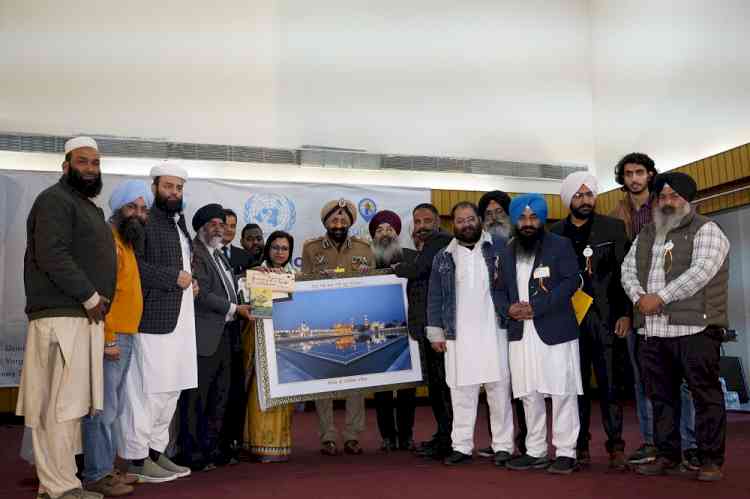 Ludhiana, February 1, 2023: Deputy Commissioner Surabhi Malik on Wednesday exhorted the youth to spread the message of peace, love and harmony and stand for the welfare of society.
Inaugurating the World Interfaith Harmony Week in local Ramgarhia Girls College, the Deputy Commissioner said that above 65-percent population of India was below 35 and no country in this world has such a younger population. She said that this generation could bring revolutionary changes in society with their power of spreading love and unity in society. 
Malik said that unity was of utmost importance for making the nation developed and the youth can do wonder in making India a superpower by ensuring love and harmony in all sections of society. She asserted that young people have the power to change the world and they are an asset to any country. She said that those countries had demonstrated in the world where their young people had played a constructive role for transforming society.
Commissioner of Police Mandeep Singh Sidhu said that no religion was greater than humanity and Almighty always blesses those who spread love and brotherhood. People must be ready to help others always and called education a key for inclusive growth and social harmony.
An educationist and Christian Scholar Father Varghese Kachappilly, Shahi Imam Punjab Mohammad Usman Rehmani Ludhianvi, Pragya Bodhi Thero, Sarbjeet Singh Renuka, and others spoke during the event.
Prominent among those present on the occasion included MC Zonal Commissioner Jasdev Singh Sekhon, Davinder Singh Nagi, Mohinder Singh, Gursahib Singh, Hemant Goyal and representatives of Cityneeds and team 1699 were present.