DC Ludhiana urges officials to remain prepared for monsoon season
Reviews progress of flood control measures made regarding upcoming monsoon season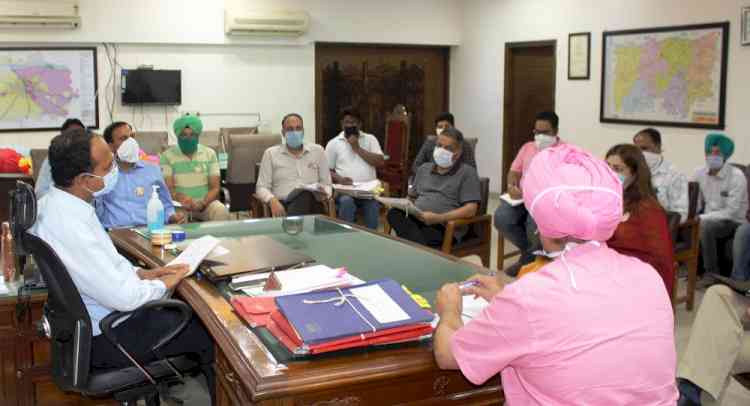 Ludhiana: In view of the upcoming Monsoon season, the district administration have set up district-level flood control room, besides, directions have also been issued for setting up of control rooms at Sub Division/Tehsil level. Deputy Commissioner Mr Varinder Sharma today reviewed the progress of the arrangements made regarding the upcoming monsoon season during a meeting held at his office, here.
The Deputy Commissioner reviewed the arrangements made by the Municipal Corporation Ludhiana, Irrigation Department, Drainage Department and other departments. The DC instructed the officials to constantly coordinate with each other via WhatsApp group to closely monitor the situations in the monsoon season.
He ordered the officials to keep their mobiles 'switch on' round the clock and any kind of indiscipline will not be tolerated. He suggested them to share information about the situation regularly in the group. District heads of all departments will work as a nodal officer for necessary arrangements and communications.
He ordered the Sub-divisional magistrates (SDMs) to install wireless public address system in one vehicle to alert the people in the situation of floods. He also asked NDRF and Army officials to take the stock of sensitive places along with administration teams before the monsoon season starts.
He stated that SDMs will ensure the working of the flood control rooms round the clock and asked them to depute employees in shifts there.
The deputy commissioner told the drainage department officials to keep a close vigil on all spots which were identified as sensitive during the inspections. He will also supervise the water level at Sutlej River and will give the information regularly, DC added.
The irrigation department's officials will ensure the cleanliness of distributaries to save the crops in the situation of flood and MC Commissioner, Executive Officers and Deputy Director Local Bodies will have the responsibility of clearing drains.
The Deputy Commissioner asked the SDMs to make adequate arrangements to meet any sort of situation season and sufficient stock of boats, oars, life-saving jackets, motor engines, sandbags, wireless system, manpower, machinery, and tarpaulins should be ensured.
He was also told that safe places have been earmarked where residents of flood-affected areas will be shifted if required and SDMs should ensure the arrangements of drinking water facility, toilets there.
He also directed all SDMs to set up control rooms in their respective sub divisions and intimate the District Office regarding the phone numbers and fax number so that they can be contacted in case of any emergency.