DC Ludhiana launches poster of "catch the rain, where it falls, when it falls"
Campaign aimed at promoting rainwater harvesting amongst residents: Varinder Kumar Sharma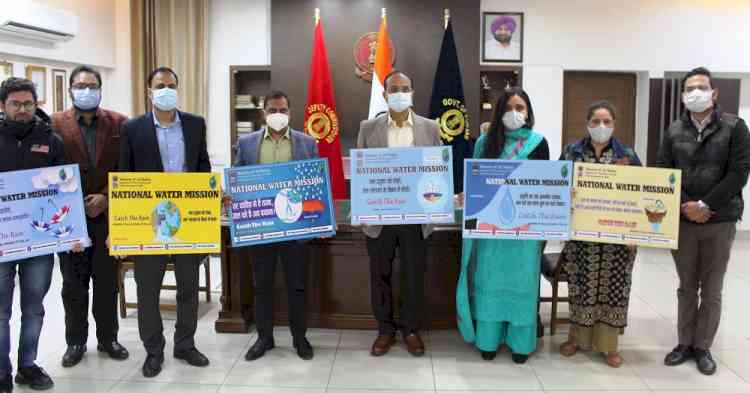 Ludhiana: Deputy Commissioner Ludhiana Mr Varinder Kumar Sharma today launched the "Catch the rain, where it falls, when it falls" campaign at his office, here. Nehru Yuva Kendra Ludhiana has identified 50 villages in the district where awareness and sensitisation building activities will take place for smooth implementation of the project with active participation of the volunteers of NYK Ludhiana.
    He was also accompanied by ADC (Development) Mr Sandeep Kumar, ADC (General) Mr Amarjit Bains, District Youth Officer at Nehru Yuva Kendra Miss Rashmeet Kaur, besides several others.
    While speaking on the occasion, Mr Varinder Kumar Sharma said that the basic idea of this campaign is to involve the local youth and village population to accept the project, help, support and encourage the villagers and families to take initiatives for Water Conservation through Water Harvesting measures.
    National Water Mission's (NWM) and Nehru Yuva Kendra's campaign "Catch the rain, where it falls, when it falls" is a campaign to create appropriate Rain Water Harvesting Structures (RWHS) suitable to the climatic conditions and sub-soil strata before monsoon.
    Under this campaign, drives to make check dams, water harvesting pits, rooftop RWHS etc; removal of encroachments and desilting of tanks to increase their storage capacity; removal of obstructions in the channels which bring water to them from the catchment areas etc; repairs to step-wells and using defunct bore-wells and unused wells to put water back to aquifers etc. are to be taken up with the active participation of people.
    The main objective of this initiative is to make aware and educate youth leaders and volunteers from NYKs Youth Clubs on the manifold issues and need of water conservation, rain water harvesting, minimising wastage and re-use of water, to make aware and sensitise village communities about the need and importance of water conservation and minimise water wastage for its availability at present and future generations for survival, to spread the message of, or the capture of rainfall runoff from roofs or similar hard surface of the campus, to empower youth to assume lead role and act as catalytic agent for educating people to practice Rainwater "harvesting" and popularise tagline "Catch the rain, where it falls, when it falls" and to motivate farmers to adopt new technologies for irrigation and promote basin level integrated water resources management at local level.