DC fixes weekly targets of departments to ensure timely completion of development projects
Reviews progress on pro-people schemes of captain government besides directing officials to complete ongoing projects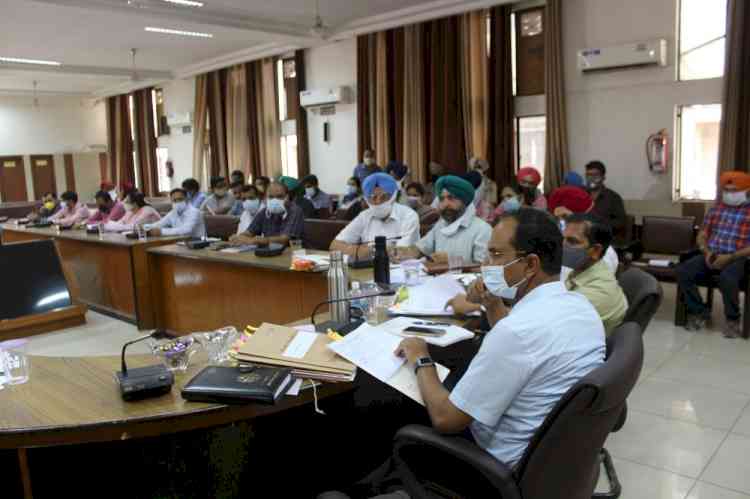 Deputy Commissioner, Ludhiana Varinder Kumar Sharma on Friday chairing a review meeting at Bachat Bhawan.
Ludhiana: In a bid to ensure timely completion of pro-people schemes of Chief Minister Captain Amarinder Singh led state government, Deputy Commissioner Varinder Kumar Sharma on Friday has fixed the weekly targets of various departments, which he would personally review. 
Chairing a review meeting at Bachat Bhawan, the deputy commissioner directed officials to complete ongoing development projects soon and submit Utilization Certificates (UCs) for the funds they had received for the development works.
He said that projects undergoing the incurring Panchayat funds, Finance commission's funds, and Rural Development Funds to be completed within a month while announcing that he will hold a weekly review on the progress of these projects.
Deputy Commissioner asked department heads to personally supervise so that pending works can be completed in a time-bound manner.
He further asked BDPOs to expedite the works under Mahatma Gandhi National Rozgaar Guarantee Act (MGNREGA) to alleviate the rural distress, especially in the post COVID era.
He said that scaling up the MGNREGA performance would not only foster the development of the rural areas but also help to tackle the employment crisis in the villages by offering a bundle of job opportunities for the rural laborers.
He categorically said that any sort of laxity in this work is unwarranted and undesirable adding, the constant monitoring of target achievements to be done regularly.
Meanwhile, he also reviewed the progress on the various scheme including the Rejuvenation of Village Ponds, Jal Jiwan Mission, DAPO, Buddy Program, Enforcement of Anti-Drug Measures, Drug De-Addiction And Rehabilitation program, Agriculture And Farmers' Welfare schemes, Social Security schemes, Animal Husbandry And Dairy Development schemes. 
Prominent amongst others present included ADC (D) Sandeep Kumar, Assistant Commissioner Dr Harjinder Singh, DDPO Sanjiv Kumar and others.