Day-4 of seven day online international conclave on global perspectives on education in covid-19 times
Dr Edward J. Downes, Associate Professor, Boston University, USA was the keynote speaker for the day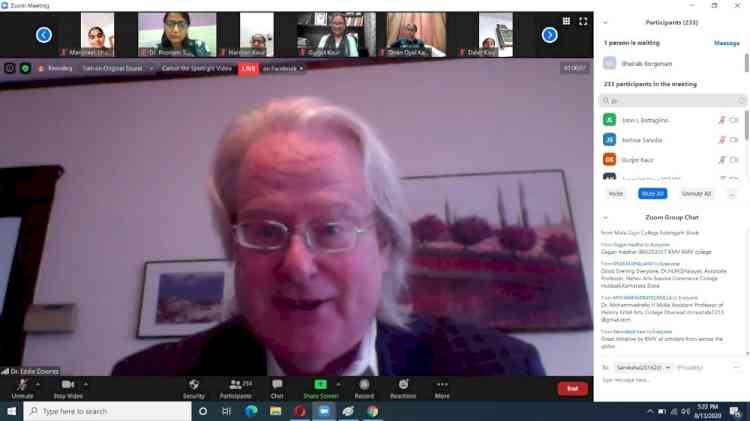 Jalandhar: Kanya Maha Vidyalaya successfully entered into the fourth day of Seven Day Online International Conclave on Global Perspectives on Education in COVID-19 Times: Challenges & Opportunities. 

The fourth day of the conclave also started with the lighting of lamps, in a virtual manner, keeping consistent with the traditions of KMV. Dr Edward J. Downes, Associate Professor, Boston University, USA was the keynote speaker for the day. The topic of his talk was Relationship between the Digital Divide and COVID-19. During the talk, Dr Downes very vividly explained the phenomenon of Digital Divide to all the participants. He also stressed on the fact that during COVID-19 pandemic when the whole education system is entirely dependant on digital technologies, the presence of Digital divide can be more felt in the developing countries of the world. He stated that it is difficult to find a single solution to the problem of Digital divide, but the educators and scholars from all over the world should come together to address this issue. He further stated that we should all ponder over the fact that whether the technology in the form of internet or social media has only positive implications to it or does it also has a negative side to it. After the session, many curious students raised their queries in front of the resource person and all these queries were equally addressed by the resource person. Principal Prof Dr Atima Sharma Dwivedi averred that Digital divide is a kind of issue that can be seen very visibly in developing countries as many students in today's world are not able to participate in the education system due to the Digital divide, therefore it is very imperative that we should all come together to find some real solution to this problem at global level. A video depicting the achievers of KMV- alumni who have made a mark in the world,  was also played after the session. 

Dr Madhumeet, Head, PG Department of English was the moderator for the day. 

Principal lauded the efforts of Dr Gopi, Dr Madhumeet, Mrs Suman Khurana, Dr Pardeep & Dr Ravi for successfully organising this international conclave.