DAVIET holds virtual session of IAF for engineering and management students
The students virtually present over there took very keen interest in the interaction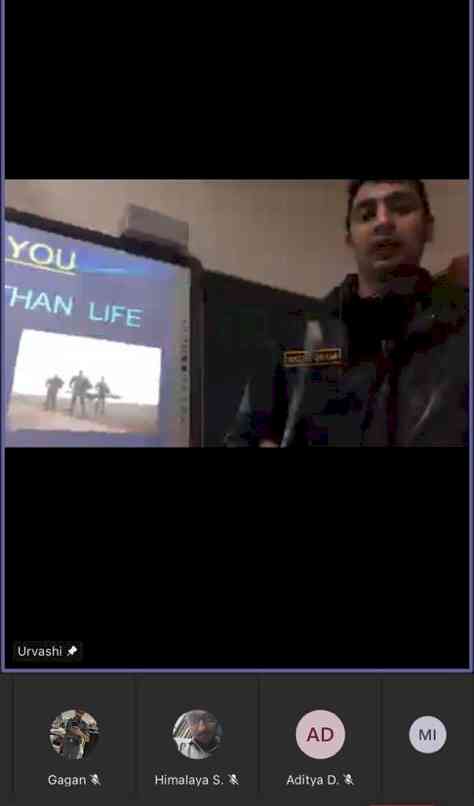 Jalandhar: DAV Institute of Engineering & Technology (DAVIET), Jalandhar in association with Indian Air Force(IAF) organized Webinar on "Career Opportunities in Indian Air Force" delivered by Squadron Leader Urvashi Narwal and Squadron Leader Nikesh Dhami .
Squadron Leader Nikesh Dhami and Squadron Leader Urvashi Narwal actively interacted with more than 800 pre-final year and final year students of engineering graduate. He made the students aware about various entry exams and briefed about how to prepare for the same, requirements thereof, eligibility criteria, barriers, scope in Air Force, right path for entry in defence services.
He told the engineering students about entry in Flying Branch through the air force academy. He shared three modes of entry for engineers to join the flying branch namely through CDSE(Combined Defence Services examination) in which he briefed about Age limit, Education Qualification required and shared that the advertisement is released by the UPSC in the month of November and August every year, he also explained about NCC Special Entry who's advertisement is released in the month of June and December and then entry in Indian Air Force through AFCAT,the advertisement is released in the month of June and December.
The another option he shared for engineering students is Ground Duty(Technical Branch).He explained that in this designation the officer become the  in charge of some of the most sophisticated equipments in the world by joining one of the sub branches based on their qualification. He explained about the age limit and advertisement schedule which is release by IAF in the month of June and December.
The another option he shared about Ground Duty (Non Technical) Branches in which students are responsible for handling work of Administration Branch, Accounts Branch, Logistics Branch, Education Branch and Meteorology Branch. He highlighted that the management graduates are also eligible to participate in this Indian Airforce branch.
The students virtually present over there took very keen interest in the interaction and got all the answers for their relevant queries on the spot. 
Dr. Sushil Prashar (Head, Department of Training Placement) along with Vishav Kapoor,Ratish Bhardwaj and Kalpana Sharma thanked the Indian Air Force for selecting DAVIET as the only institute to organize this important event and make their students aware about scope in Indian Air Force. 
Dr. Manoj Kumar, Principal DAVIET briefed that this type of event has been organized to make the students aware of the opportunities to enter Indian Air Force as Officer. He said that the institution will continue the conduct of such type of events for the students/ unemployed youth in near future. He also shared that DAVIET is the only institute in the region where all the three defence forces i.e Indian Army,Indian Navy and Indian Airforce visit everyear.