DAVIET conducts alumni meet through virtual medium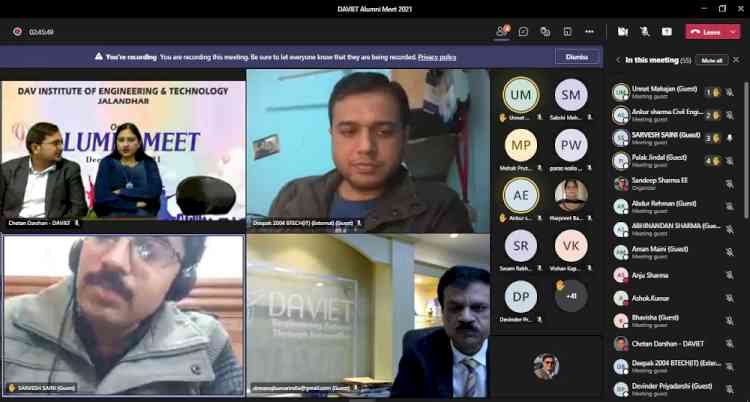 Jalandhar, December 5, 2021: DAV Institute of Engineering & Technology, Kabir Nagar, Jalandhar conducted an online Alumni Meet on 4 December,2021. The former disciples shared their experiences and even rejuvenated the institution where they learnt to shape their dreams. Every alumni present acknowledged the fact that DAVIET is continuing and carrying forward the established mission of imparting quality education and serving the nation in true sense and producing Skilled engineers. 
Dr. Neeru Malhotra, HOD (ECE) and President DAVIET Alumni Association heartily welcomed the alumni members and called them assets for the Institution. According to her, some of them have really become role models for the coming students who can follow their footsteps to achieve success and excellence in their lives and DAVIET always provides platform to them as being one of the greatest institutions in the country. Moreover, She gave information about Alma Bay software adopted by college to keep all alumni connected with its institution and asked all to make it stronger. 
Principal Dr. Manoj Kumar in his speech gave insights on the emotional bonding alumni have with their alma mater and presented the idea of alumni  motivating the present students to achieve greater heights in their life. Further in his address, he mentioned that it will be considered as a big step if alumni  provides support to Institution on placement and training. He shared information about new courses which have been introduced in campus. He also presented the idea that DAVIET has set benchmarks in the academia in 10 years and is relentlessly trying to achieve the heights in rendering the world class education. He emphasized on the need of industry in present scenario.
Many alumni expressed their bonding with institute and stated that they received a lot opportunities from college and great support from mentor teachers for overall development. Ashutosh Arya (Vice President) Automotive & Power Sector PSU, Ernst & Young India, Gurgaon , Daman Kalra (MD) KOS Immigration & LTV Logistics,  Deepak Kumar (Modern Work Architect) at Fast Track Microsoft, Delhi, India, Ankur Sharma (SDO) Irrigation department, Shahpur Kandi Dam Pathankot, Mehak Pruthi, (Public Services Officer) Ministry of Infrastructure, Canada and many other attended this  meet. Studying at DAVIET brought an added value to their life and it gave them an opportunity to meet different people and learn a number of things and also provided platform of practical learning to face challenges of professional as well as social life. They thanked all faculties to groom them to make corporate professionals. Vice President Dr. Love Kumar, Dr. Chetan Darshan , Prof. Rajesh Kochher, Prof. Anurag Sharma  and Vishav Kapoor Former alumnus and Asstt. Prof. of college were also present in this meet.