CT Varsity develops in-vehicle emergency blaring system
Smart horn to be converted to an Emergency Blaring Siren during any medical emergency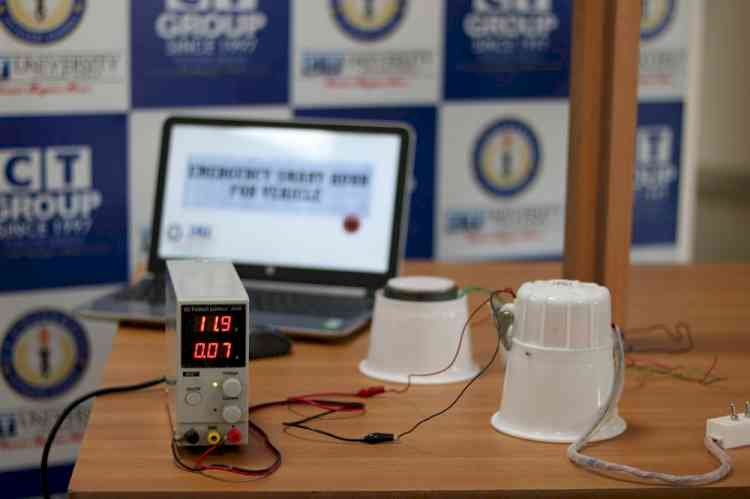 In-Vehicle Emergency Blaring System developed by CT Varsity.
Ludhiana: CT University's Robotic and Automation department has invented an 'In-Vehicle Emergency Blaring System'. This invention is about a smart horn for any vehicle that can be activated only with permission granted from the doctor or police authorities. The prototype was built in the Robotics lab with the help of Lab Technician Gurkirat Singh. 
This invention would be very beneficial during the current Covid19 situation where if any person wants to go to the hospital in an emergency situation, then this smart horn will convert itself to an Emergency Blaring Siren. For the working of this system, there will be one mobile-based application that needs to be installed on the user end as well as on the police/doctor's end. The user then sends the request to the doctor/police authorities and then based upon the authenticity of the request received, the police/doctor can grant the request. After the grant, the smart horn turns into the siren.
Dr. Harmeet Singh, Deputy Director, IPR cell and the inventor of the patent said, "We have used one controller which is always connected with the internet. This controller can activate and deactivate the siren based upon the permission received. We have also added one more special feature in this invention which will not allow the user to bypass the siren system, which means the user can't use the siren without the permission of the higher authority".
Ati Priye, Director for Planning and Development and the second inventor of the patent, added "This invention will help the vehicle to move fast but safely during an emergency situation. It also would be possible to track that specific vehicle by Doctor/ police while rushing for medical help. This invention is ready for the pilot phase of testing in a particular region and with limited Hospitals.
Charanjit Singh Sohal, IPS, Senior Superintendent of Police, District Ludhiana Rural while encouraging the team said, "This project can be a huge success. We can associate with the traffic police and do wonders."
CT University Managing Director Manbir Singh appreciated the team for developing such a helpful device for the public.