CT University hosts 4th CAFR international chefs e-conclave
12 eminent chefs discussed key issues on health and immunity boosting food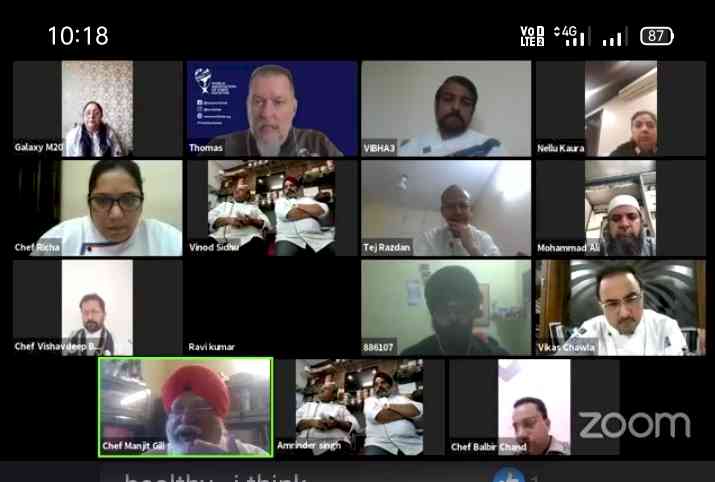 A Screenshot of zoom session of international conclave by CTU.
Ludhiana: School of Hotel Management, Airlines and Tourism, CT University in association with Chefs Association of Five Rivers (CAFR) organized 4th CAFR International Chef's e- conclave on the theme "Health and Immunity Boosting Food-Back to Roots". The two day E-conclave was divided into 4 different sessions and total 12 eminent chefs discussed on the keys issues of mentioned theme. In this event, more than 500 participants from 7 countries showed their online presence. 

The conclave was inaugurated online by CTU Chancellor Charanjit Singh, Managing Director Manbir Singh, Vice Chairman Harpreet Singh, Vice Chancellor, Dr Harsh Sadawarti, Chef Thomas A Gugler, President, World Association of Chefs Societies and Dean of School, Dr Varinder Singh Rana.

Vice Chancellor Dr. Harsh Sadawarti delivered the inaugural address and welcomed all the guests and participants. Dr. Chef Varinder Singh Rana, Dean of School of Hotel Management, Airlines and Tourism introduced the theme of the conclave. He deliberated views on the relation of healthy, planned food and strong immunity.

Chef Thomas A Gugler, President, WACS graced the online conclave as a Chief Guest. He delivered a presentation on the sustainability of traditional and simple cuisine.

The Guest of Honor, Chef Manjit Gill, President, Indian Federation of Chefs Associations (IFCA) mentioned the need about eating right and the philosophy of Ayurveda food. Dr. Viniti Davar, Chief Dietician, AHHS shared her presentation on Nutrition aspects required to make body and mind fit.

During these two day event, the eminent chefs from Industry namely Chef T K Razdan, President CAFR, Chef Vinod Kumar Bhatti, Chef Ajay Sood, Chef Sanjay Thakur, Chef Altamash Patel, Chef Tushar Malkani and Chef Vishavdeep Bali joined as key note speakers.

Registrar of CT University Dr. Jagtar Singh Dhiman delivered a thanks note to all the participants. Speaking on the occasion, Managing Director of CT University, Manbir Singh praised the efforts of School faculty and encouraged them to hold such kind of knowledgeable events in future too.