CT Public School student Parth Verma develops 'Vehicle Ventilation Regulation device'
Patent filed by youngest researcher of CT Public School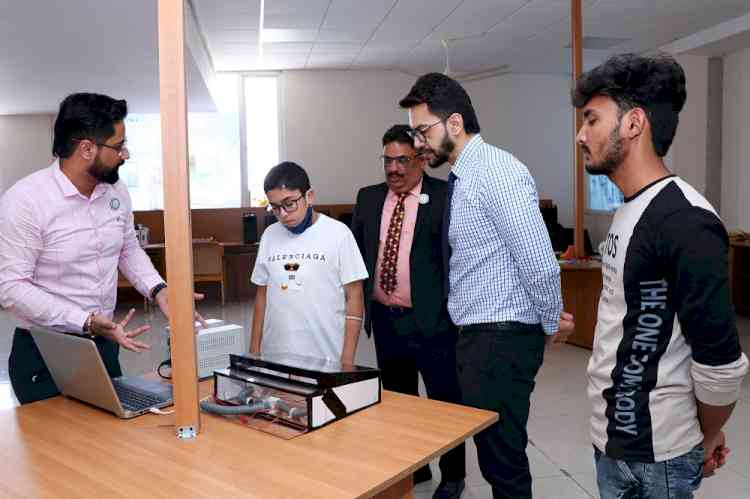 CT Group Managing Director Manbir Singh, CT University Vice Chancellor Dr. Harsh Sadawarti along with CT Public School student Parth Verma who developed 'Vehicle Ventilation Regulation device'.


Jalandhar, June 17, 2021: A student of CT Public School, Parth Verma, who is studying in grade 8, has filed a patent after developing a 'Vehicle Ventilation Regulation Device' in collaboration with Robotics and Automation Department of CT University.
The invention relates to a vehicle ventilation regulating device that maintains the flow of pure air inside the vehicle by restricting the flow of polluted air present in the surroundings to enter inside the vehicle based on the choice of the user, thereby maintaining the health of the user from inhaling polluted air.
This all started when, the youngest researcher from Punjab, Parth found the issue of Smoke coming inside the car from the fire in the field when the car ventilation was on and he had to manually turn off the ventilation. Then, he met Dr. Harmeet Singh, Deputy Director IPR cell, CT University. He discussed this issue with him and decided to resolve this problem. So, they came with an idea to automate this thing and tried making a system for existing cars.
First the 3D model was created in the software and then the circuit for the same was tested. The team developed the prototype in one week and the final system was tested successfully. Finally, the patent was filed.
While explaining the same, Parth Verma said, "The idea is ready for the commercialization and can be used in the existing cars. In the present invention, a vehicle ventilation regulating device comprises, a push button manually operated by a user to enable ON, OFF or AUTO modes that results in opening or closing of an air inlet flap, smoke  detection sensor detects presence of airborne particulate and unfavorable gases outside the vehicle, a controller (Arduino Uno) connected with the sensor. In ON mode flap opens to allow entry of air inside the vehicle, in OFF mode flap closes to stop entry of air inside the vehicle and allows entry of air when, in AUTO mode opening/closing of flaps takes place to allow/stop the entry of air inside the vehicle according to sensor output comparable to the first threshold value (maximum air quality)."
Sharing the proud moment and congratulating the team, Manbir Singh, Managing Director said, "We are glad that we started tapping young minds for research and because of that we found a gem at such a young age. I also urge every student to come up, even with a small idea as together we can do wonders."