Covid 19: License of shopkeepers not offering home delivery to be cancelled: DC
If supply trucks are stopped unnecessarily, they should complain at 112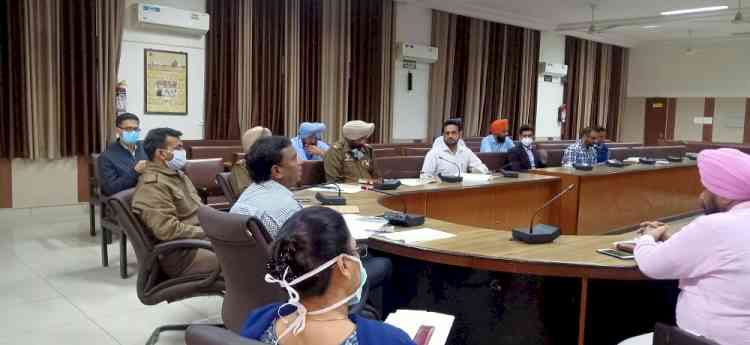 •    RETAILERS CAN THEMSELVES BRING KIRYANA FROM KESAR GANJ MANDI
•    ONE BRANCH EACH OF EVERY BANK TO OPEN ON SATURDAY
•    7 NEW SAMPLES TAKEN TODAY; TILL NOW 56 SAMPLES NEGATIVE & 2 POSITIVE
Ludhiana: In view of the lockdown in district Ludhiana, the District Administration and Municipal Corporation Ludhiana have decided that any shopkeeper who does not offer home delivery, their license would be cancelled. The shopkeeper would have to follow the rules of the license at every cost.
    While chairing a meeting to review the arrangements, Deputy Commissioner Mr Pradeep Kumar Agrawal said that they have come to know that some shopkeeper are not offering home delivery to the residents despite taking license in this regard. He said that strict action would now be taken against such shopkeepers.
    Mr Agrawal further said that the retailers/shopkeepers can now bring kiryana from Kesar Ganj Mandi themselves and assured that the police would not harass them. He said that nodal officers from police and civil administration have been deputed in Kesar Ganj Mandi as well as Pindi Street.
    He also clarified that if the trucks used for supply of essential commodities are stopped by the police or some other official, they should complain at state-level helpline number 112, which is being monitored directly by the Chief Minister. For the  benefit of suppliers, shopkeepers and retailers, one branch each of every bank would open in the city from 11 am to 2 pm on Saturday. All the banks have been directed that there should be no shortage of cash in the ATMs. He said that soon, mobile ATM facility would be started in the district.
    During the meeting, it was also decided to open drug de-addiction centres in district Ludhiana. He informed that these centres would be opened from 9 am to 3 pm and only those patients can take medicine, whose registration is of before March 20, 2020. New registration would be done only at government OOAT centres.
    The Deputy Commissioner said that the health department today took seven samples, whose results are awaited. He informed that till date, 58 samples have been taken, out of which 56 are negative and 2 are positive.